The JOTA-JOTI Campfires are Back!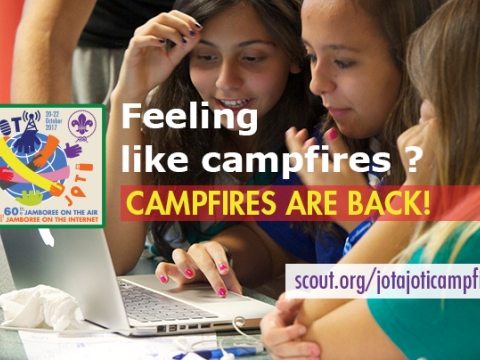 We've got great interactive sessions ready for you this JOTA-JOTI! Are you interested in finding out how you can be a more active citizen, do more to protect our environment, as well as promote peace and dialogue in your community? If you are, you're definitely going to enjoy them.
Our international team of Scout volunteers are eagerly waiting to share with you about the Messengers of Peace initiative, World Scout Environment Programme, Scouts Go Solar, Dialogue for Peace Programme, as well as the Patrimonito Badge. Feel free to choose from any of these following campfires:
Peace actions today - Messenger of Peace
with May Abdelhadi and Jonathan Morey on 20 October, Friday, 8pm (GMT+8)
A small act of kindness has the power to change humanity. How can Cubs make a change in local community; Scouts promote Human Rights; or Rovers be ambassadors of Peace? How can YOU be the person driving a new culture and inspiring others to be the change?
WATCH
Infinite source of empowerment - Scouts Go Solar
with Bernardo de Leon on 21 October, Saturday, 3pm (GMT+8)
Solar power is clean, renewable and cost effective. Scouts are getting solarised and bringing innovation to local communities, using this vast resource for development, disaster relief and climate change prevention.
WATCH
Youth commitment matters in tackling global issues - Scouts of the World Award
with Vincent Perraud on 21 October, Saturday, 5pm (GMT+8)
With the Rovers centenary just around the corner, what is the role of young adults in the transformation of local communities? Can Rovers be a force of change for the future?
WATCH
Protecting our only world - World Scout Environment Programme
with Maeed Zahir on 21 October, Saturday, 7pm (GMT+8)
While we can't deny the negative effects of climate change on our cities, fauna, landscapes and resources, we can still change our behaviour and make positive changes through 'green' actions.
WATCH
Dialogue and Mutual Understanding – Dialogue for Peace Programme
with Iliene Corsen on 22 October, Sunday, 9am (GMT+8)
Adopting dialogue as a way to embrace others from our communities, celebrate differences and create new ways of coexistence.
WATCH
From local treasure to global heritage - Patrimonito Badge
with George Botros 22 October, Sunday, 11am (GMT+8)
Do you love Archaeology? Do you live near a World Heritage Site? Are you working on/planning to work on a Scouts of the World Award project? If your answer is yes, then you should register for this session!
WATCH
Haven't registered for Jota-Joti? Register your group now.