Submit your Project Submit your Project
Submit your Project
All around the world, Scouting is making an extraordinary contribution to improve the sustainability of our planet by promoting peace, tackling inequality and taking action for the environment. 
Together, Scouts are leading service activities and projects to make the world's largest youth-led contribution to the Sustainable Development Goals (SDGs), and contribute towards making their communities better places to live, work and play.
The Scouts for SDGs digital hub is a space where young people can log their community service hours and add their projects to inspire their friends and other Scouts to take action for our planet. These actions and projects add up to create an incredible impact around the globe! 
Share your Service Project or Story
Are you leading an impactful community service project in your community? Have a great story to share about how you are improving the sustainability of our planet? We want to hear from you on the Scouts for SDGs hub!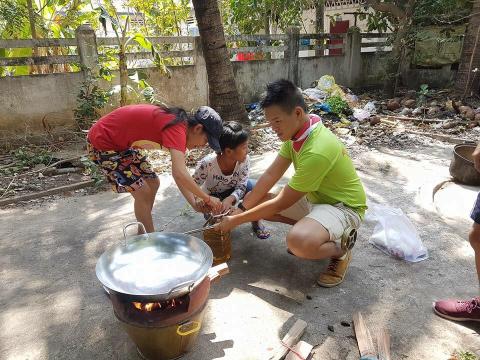 The community service project option lets Scouts share the details of youth-led and volunteer projects that are serving communities around the world. Tag your project to the SDGs and add relevant details, including how many Scouts took part, your motivation for the project and what impact it had in the community. Then add photos and an engaging title to make your project ready to post on the Scouts for SDGs site. 
Share your project now
The blog post option allows Scouts to write stories about community actions and feature them on the Scouts for SDGs site. Express your ideas, experiences and opinions about how we can create a better world. Tag your story to the SDGs, write your post with a catchy title and add high-quality photos to bring your story to life! 
Add your story now
How to Upload your Service Project or Story
Copyright
World Scout Bureau
Follow the simple steps below to add your community service project or create a blog post to be featured on the Scouts for SDGs hub.
Login using your scout.org username and password
Go to sdgs.scout.org
Click on "Take Action" to submit a project or post
Follow the guidance in each step
Now submit your project or post  
Each step will offer you tips to complete the process and help your project or post to stand out on the website and SDG map.
Your submission will be reviewed by a moderator and you will be able to see your project or post once it has been approved.
Add your service project or story
Take action now
Copyright
World Scout Bureau
New World Map of SDG Impact
Take a look at the new interactive world map and see the impact that Scouts are having around the world. You can find your community service project and the projects of Scouts everywhere by selecting the country and learning which Sustainable Development Goals young people are working to achieve. Get inspired by these actions and continue to submit your service projects to be reflected on the world Map
Explore the Map
All past projects posted online remain in your user profiles and have now been moved from Scout.org to the Scouts for SDGs digital hub. All future projects posted online will be featured on the Scouts for SDGs digital hub, but will no longer be posted on Scout.org.