Rethinking the Scout Youth Programme Development in Africa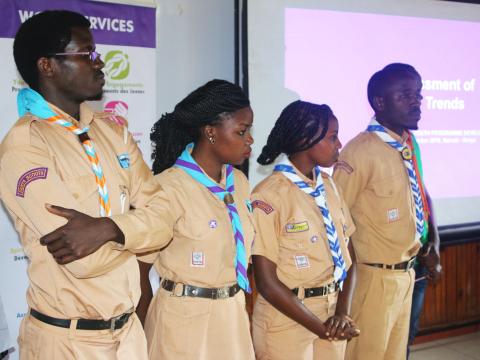 29 September 2018, Nairobi-Kenya: 21 Scout Leaders from 20 National Scout Organizations (NSOs) in the Africa Region met in Nairobi, Kenya from 26th to 29th September 2018 to discuss new approaches to developing the Scout Youth Programme for young people in Africa. The Regional Youth Programme Developers Workshop brought together Programme and Training Commissioners and Executives, Chief Commissioners, WOSM Consultants for Educational Methods and other volunteers as well as Staff of the World Scout Bureau.
The training was held in response to the need for better management of the youth programme cycle in NSOs - from design to development, implementation, evaluation and review. It was inspired by the need to bring about new thinking to youth programme development. As an outcome, the workshop aims to develop a team of competent youth programme developers who can effectively manage the youth programme cycle in their countries, to ensure relevant and attractive programmes that meet the needs and aspirations of young people. The Educational methods consultants' capacities to better guide and support NSOs in this process was also enhanced.
Over the four days period the leaders reflected on the vision and mission of Scouting and how they are linked to youth programme development. They also discussed the programme development process which includes elements on needs assessment, assessment of youth trends and how they can be incorporated into programme development, the eight steps of youth programme design based on the concept of the Renewed Approach to Programme, implementation of youth programme as well as tools and approaches to evaluate the youth programme.
Additionally, the leaders also got insights into different global programmes under the Better World Framework and how they can plug into them to enrich Scout experiences at national and local levels. In light of the sustainable development agenda, the workshop also discussed how to mainstream education and action on the United Nations Sustainable Development Goals into the Scout Youth programme to ensure the movement plays its role in creating awareness and inspiring action on SDGs among young people.
"This is one of the ways through which we want to pursue growth of our membership but also the positive impact we achieve in transforming Africa by educating young people to play a constructive role in society. We want to see more relevant and up-to-date programme delivery in every NSO supported by relevant policies and practices," said Jonathan Omondi, Youth Programme Manager at the World Scout Bureau Africa Support Centre.
As part the efforts to further the ONE World Scout Bureau philosophy through inter-regional collaboration under the Thematic Teams framework, the training was also supported by a staff from the World Scout Bureau Asia-Pacific Support Centre, Syd Castillo, who delivered some sessions and shared his vast experience in youth programme management with the participants.