What Scouts can look forward to in 2022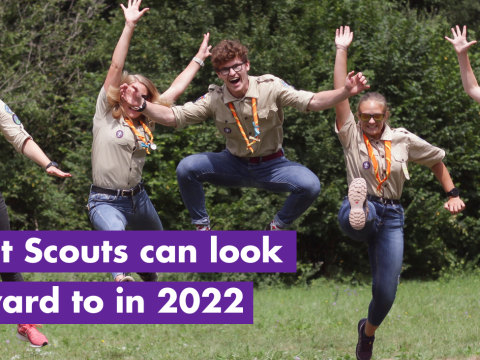 We've learned a lot in recent years about being resilient and staying connected in trying times. As Scouts, we're always moving forward, so let's take those lessons with us as we prepare for another year of events. Whether these events are in-person or virtual, let's make it a great year together!
Here are four things Scouts can look forward to in 2022:
Local, national and regional events (dates vary)
Every Scout group, country and region runs independent events, like meetings, camps, field trips, trainings and community service programmes.
We see Scouts do all sorts of things, such as team-building games, day hikes with amazing views, life-saving first aid training, overnight camps in the forest, learning skills together, building impressive structures, campfire cooking, helping displaced people after a flood, and so much more. Every group has its unique activities, but across the world they share a lot in common, like collaboration, friendship, fun, nature, service and adventure.
Ways to participate in local, national and regional events this year:
If you are not involved in Scouting already, contact your nearest Scout group or National Scout Organization to learn how to join them.
If you're already in Scouting, your Scout Leader will tell you what to expect this year.
You can also check whether your National Scout Organization or your Scout Region are running any events this year, like Jamborees, training events and online get-togethers: Africa (Instagram, Facebook, Twitter), Arab (Instagram, Facebook), Asia-Pacific (Instagram, Facebook, Twitter), Eurasia (E-mail), Europe (Facebook, Twitter) or Interamerica (Instagram, Facebook, Twitter).
Lastly, Rover Scouts can check out the international Rover camps offered in 2022 and contact the Host organisation to find out how to participate.
Scouts Leaders: If you're planning to restart in-person events soon, check out Back To Our Nature for resources to help you run safe, fun meetings and events in today's climate.
Founder's Day (22 February)
As Scouts, you're part of a tradition that is more than a century old! Founder's Day marks the birthday (22 February) of the pioneer of Scouting, Lord Baden-Powell (1857-1941). 
Founder's Day is a time to celebrate the history and progress of Scouting, from its foundation with a small group of boys in 1907 in the United Kingdom to a modern-day Scout Movement of 57 million members strong from 172 National Scout Organizations! 
Ways to participate in Founder's Day 2022:
Keep an eye on our social media channels to access special content and resources to celebrate over 100 years of acts of kindness through Scouting! #GoodTurns
Join or plan a local Founder's Day event - maybe your group can take part in an act of community service together, like a community cleanup, collecting food for those in need, etc.
Renew your Scout Promise to reaffirm your commitment to the Movement's core values.
Learn more about Scouting history here and here, and watch our video about Baden-Powell.
Have fun and celebrate your role in Scouting's global legacy of building friendships, enjoying adventures and creating a better world!
Earth Hour (26 March)
Earth Hour happens annually on the last Saturday of March at 20:30 (local time). Coordinated by WWF, millions of people around the world come together in solidarity for our planet, raising awareness of nature loss and climate change - the two biggest threats facing our home.
As champions for nature, Scouts are always active participants in Earth Hour, not only switching off the power for sixty minutes, but also planning events and activities around the event to call for and enact urgent change.
This year, Earth Hour is happening just weeks before the United Nations Convention on Biological Diversity 15th Conference of the Parties (UN CBD COP 15), making it an unmissable opportunity to put the spotlight on this crucial conference for nature. Let's help build the global momentum needed to pressure world leaders into action.
Ways to participate in #EarthHour 2022:
Join the Earth Tribe now to share and stay connected on environmental issues all year and to learn about Earth Hour events and more!
Plan and host an Earth Hour event with your Scout Group! Click here for ideas.
Learn more on the Earth Hour website.
JOTA-JOTI (14-16 October)
The Jamboree On The Air - Jamboree On The Internet (JOTA-JOTI) gets bigger and better every year!
What started out in 1958 as a small event for Scouts to learn to set up and use amateur radio stations turned into a global event, bringing young people from over 160 countries together over the airwaves and Internet every year.
Through our digital campsite, Scouts can expect access to dozens of activities and games to learn new skills, chat rooms to connect with other Scouts, celebrations to mark our progress and unity, opportunities to earn digital merit badges, engaging live shows with special guests, and much more! There is no cost to participate, we just encourage Scouts to sign-up online when registration opens.
Mark your calendars now for the 2022 edition: 14-16 October!
Ways to participate in JOTA-JOTI 2022:
To be the first to know when registration opens, follow JOTA-JOTI on your favourite social media channel:  Instagram, Facebook & Twitter.
Groups meeting in person can participate in the amateur radio element (JOTA) or the web element (JOTI).
Anyone (individuals or groups) can participate in the Jamboree On The Internet by joining online at www.jotajoti.info (website to be updated soon for the 2022 edition!).
Be prepared! Take our Online Safety course in English, French, Spanish or Russian.
Scout Leaders: If you want to learn about setting up an in-person event with amateur radio, contact your International Commissioner for more information.
To be the first to know about international Scouting events, online and in-person, follow us on  Instagram, Facebook, Twitter, TikTok, and LinkedIn.
Wishing Scouts everywhere an amazing year filled with friendship and adventure!
https://www.scout.org/rover-opportunities-2022