Muslim and Christian Scouts from Palestine help during Ramadan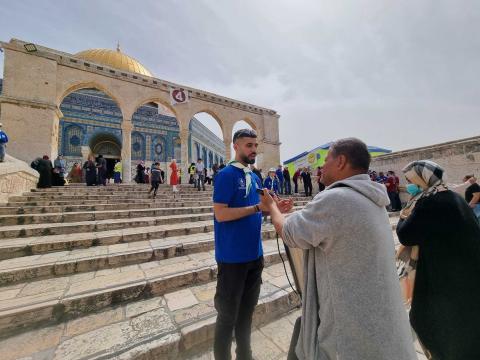 During the Muslim holy month of Ramadan, Palestinians gather to attend prayers at Al-Aqsa Mosque in the Old City of Jerusalem. Over 250,000 Muslims observing a month of fasting from sunrise to sunset worship at the seventh century mosque every Friday, requiring a tremendous amount of coordination and logistics.
This is where the Palestinian Scouts come in. Local Muslim and Christian Scouts volunteer their time and skills to ensure that events are organised, peaceful, and enjoyable for visitors. Scouts help coordinate queues, provide meals, arrange sleeping areas for those staying overnight, provide first aid, as needed, assist elderly worshipers, keep the grounds tidy, and more.
Over 1,200 Palestinian Scouts collaborate with the Office of the Palestinian Scout Commission in Jerusalem, Jordanian Awqaf Office, and Al-Aqsa Mosque management to provide logistics and basic services to Muslims visiting from the West Bank and Jerusalem. 
Palestinian Scouts, including Scouts, Senior Scouts, Girl Scouts, Rovers and Scout Leaders, have provided their service here during Ramadan since 2012. They also assist those lacking the financial means to reach Jerusalem and work to reduce tensions among young people, leading by example by displaying peaceful and respectful behaviour during community service activities.
While Scouts promote the spirit of volunteerism and shine a light on the positive role that Scouting plays in local communities throughout the year, their presence and services during Ramadan in particular often leads to growth in membership.
These activities are possible thanks to funding from a Messengers of Peace grant to the Palestinian Scout Association. Learn more on their Facebook page "Fasters Service in Aqsa".