Scouting and WWF renew partnership for environmental education and action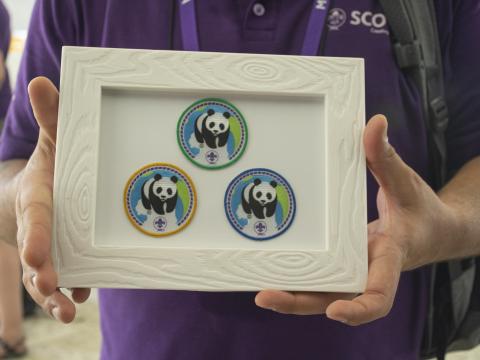 World Scouting and WWF strengthened their global partnership this week, renewing a joint commitment to inspire and mobilize even more young people to take action towards the preservation and restoration of nature. 
Through the partnership, World Scouting and WWF urge young people around the world to continue to engage in innovative activities that protect and preserve our planet, recognizing that sustainable practices towards the environment can be practiced inside the home, as well as outdoors.
"We are proud to renew our collaboration with WWF as we launch the Earth Tribe initiative, our revamped environmental programme to engage millions of young people in environmental education and action. This partnership will undoubtedly advance our efforts in tackling the pressing environmental and climate challenges facing our planet" said Ahmad Alhendawi, WOSM Secretary General. 
Since 1973, World Scouting and WWF have been key global partners in the area of environmental education and awareness, collaborating in recent years on efforts such as Earth Hour and Scouts for SDGs to mobilize young people to take action and contribute towards achieving the Sustainable Development Goals. 
 
"WWF is excited to partner with World Scouting to mobilize young people for a healthy planet. The environment has always been central to the Scout Movement and together we want to inspire the environmental leaders of tomorrow," said Marco Lambertini, Director General, WWF International.
"As nature declines like never before, the new Champions for Nature Challenge gives young people the chance to learn more about the environment and the urgent steps they can take to conserve and use it sustainably. More than ever, we need active citizens to galvanize the global momentum required to inspire people to live in harmony with nature." 
 
A key focus for the partnership over the next three years will be on the promotion and rollout of the Champions for Nature Challenge (formerly known as the World Conservation Badge or Panda Badge) as part of the Earth Tribe, a new education initiative from World Scouting to engage young people in a global movement for climate action. Through the Champions for Nature Challenge young people can learn to connect with nature and become champions for biodiversity by developing sustainable habits to live a more eco-friendly and healthy lifestyle. 
Another pillar of the partnership will continue to engage Scouts in Earth Hour as an opportunity to mobilize millions of young people worldwide in taking action to preserve, protect and restore nature. Every year over 100 National Scout Organizations take part in the grassroots movement for the environment, involving youth in climate action and volunteer community service for our planet. 
The renewed partnership which commenced in the lead up to World Environment Day, comes at a time when the world deals with the severe impact of the COVID-19 pandemic. This global health crisis presents a stark reminder for the urgency to tackle global challenges in a timely and coordinated manner. In the spirit of urgency and global citizenship, the Earth Tribe initiative recognises the critical impact that human activity has on nature, and how young people as global citizens can play an active role in being champions and advocates for environmental action. 
Together the two organisations will also work to connect and enable National Scout Organizations and WWF country offices to work in collaboration around activities to protect the environment, building on partnerships in place across regions in Africa, and efforts taking place in specific country contexts.
The global partnership agreement was signed virtually on 2 June 2020 by Ahmad Alhendawi, Secretary General of the World Organization of the Scout Movement, and Marco Lambertini, Director General of WWF International.