Scouts contribute 2 billion hours of community service towards peace and sustainable development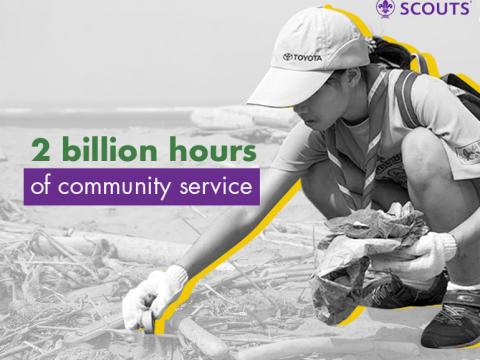 Scouts have now contributed an astonishing 2 billion hours of community service through the Messengers of Peace Initiative to improve the sustainability of our planet by promoting peace, acting as environmental leaders, and championing equality around the globe. 
The milestone puts Scouting half-way towards fulfilling its commitment to make the world's largest youth contribution of 4 billion hours of community service towards the Sustainable Development Goals (SDGs) by 2030. 
Scouting has made an extraordinary contribution for more than a century to improve the sustainability of our planet through its unique brand of non-formal education that equips young people with the skills and competencies to be active global citizens.
In 2010, Scouting pledged to inspire a culture of peace and dialogue through its flagship Messengers of Peace initiative by encouraging millions of young people to carry out peace-building projects in their communities and log their volunteer hours through Scouting's online platform. 
Since then, Scouts have delivered more than 16 million local projects and actions throughout the world, supporting communities devastated by natural floods and earthquakes in Haiti, leading peace-building efforts in the Democratic Republic of the Congo, facilitating interfaith dialogues in Indonesia, standing up for gender equality in Saudi Arabia, and working to make refugees feel welcomed in Turkey. 
"In this Decade of Action for the SDGs we need to accelerate community and youth-led solutions for sustainability over the next ten years if we are going to put our planet on a path towards peace and sustainable development. Our Messengers of Peace Initiative is proof of what youth movements like Scouting can do to achieve the SDGs," said Ahmad Alhendawi, Secretary General of the World Organization of the Scout Movement.
As the world adopted the 2030 Agenda for Sustainable Development, the Scout Movement continued its contribution towards the Global Goals through Scouts for SDGs, a global mobilisation effort to engage young people in taking action to end poverty, tackle climate change, reduce inequalities and more. 
"Scouts for SDGs has helped to mobilise young people around the world into collective action to tackle some of the most pressing social, economic and environmental challenges affecting our world. Through voluntary service and local projects, Scouts are building stronger, sustainable and more resilient communities one act at a time," said Jemima Nartey, Vice-Chairperson of the World Scout Committee and the Committee liaison for the Messengers of Peace initiative.
Through these efforts, Scouting is recognised globally as a vital force for humanitarian action and emergency response. During the COVID-19 pandemic, hundreds of thousands of Scouts around the world stepped up in different ways to ensure the safety of their communities and respond to their needs.
Scouts have been registering these community service hours and local projects since 2013 through the Scouts for SDGs online hub, which are monitored and reported by 171 National Scout Organizations and featured on an interactive map showing how they contribute to each SDG.
Scouting's local actions and contributions towards the SDGs are being supported through a network of partners and supporters including the World Scout Foundation and its network of private donors, Alwaleed Philanthropies, United Nations agencies, development agencies and governments, namely the Kingdom of Saudi Arabia.
There is a heightened sense of responsibility and urgency now more than ever to take concrete, lasting actions to advance the SDGs. As a global Movement, 54 million Scouts will continue to take action, individually and collectively, to deliver on the 2030 promise.