7 Scout actions that inspired us in 2020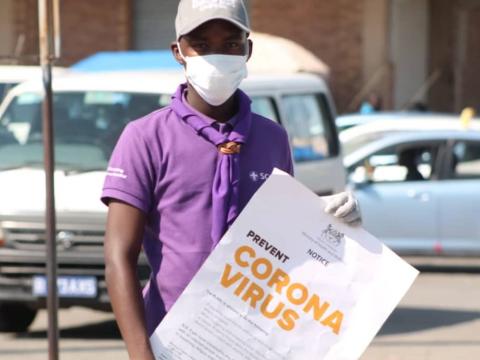 In a challenging year for us all, millions of Scouts showed their resilience and determination to create a better world. Here are seven examples of Scouts around the world who left us absolutely inspired in 2020! 
1. Lebanese Scouts among first responders to Beirut crisis
In August, Scouts everywhere were in awe of the nearly 5,000 Lebanese Scouts who were among the first responders after a devastating explosion hit Beirut. As Scouts do, they took on whatever tasks they could to help their country through a painful experience - from providing food, shelter and water, to administering first aid and cleaning up debris, to helping search for missing persons, and more. 
2. Boy Scouts of America welcome inaugural class of female Eagle Scouts
In just 19 months, Anna-Christina met all Eagle Scout requirements: earning 21 badges, holding leadership positions for six months and completing a project as a Life Scout. She is just one example from the first-ever cohort of young women joining the ranks of Eagle Scouts - the highest rank in the Boy Scouts of America (BSA). We're proud to see their achievements and progress towards greater opportunities for all in Scouting! The BSA will officially welcome the inaugural class of female Eagle Scouts in February 2021.
3. Kenyan Scouts provide essential COVID-19 relief services across the country
Scouts in different parts of Kenya mobilized since the start of the pandemic, to ensure their communities were informed and had everything they needed to be safe. The Kenya Scouts Association first launched the #ScoutsStoppingCoronavirus awareness campaign to prevent the spread of the virus. In some cities, Kenyan Scouts partnered with government initiatives in packaging and distributing sanitizers, masks and essential food items. Groups of Scouts led awareness campaigns in their communities, including Dadaab Refugee Camp where Scouts also installed hand washing stations to prevent the spread in refugee camps.
4. Afghan Scouts rejoin the Scout Movement
This year, World Scouting was thrilled to welcome 11,000 Afghan youth back to the Scout Movement. The Afghanistan National Scout Organization had a busy year bringing Scouting back to the country, including Wood Badge trainings and awarding the first Wood Badges to female Scout Leaders.
5. Scouts in Greece maximize efforts towards the SDGs
Greek Scouts have made great commitments to help achieve the Sustainable Development Goals (SDGs) in their communities, with particular attention to environmental initiatives. Their #Scouts4SDGs video set the tone for success, and initiatives around the country, such as beach cleanups and recycling programmes, have us feeling inspired to take action!
 
6. Syrian Scouts actively engaged in Scouting despite hardships
Scouting is offered all over the world, including in countries with conflict. We were constantly inspired by photos of Scouting in Syria, where Scout Leaders are helping children and youth find peace through fun activities, adventure, friendship and learning. We were excited to meet Syrian Scouts live during JOTA-JOTI, too! 
 
7. Rover Scouts in India offer non-formal education to stranded families in Delhi
When workers became stranded in India's urban centres due to COVID-19 lockdowns, Scouts stepped in to help keep workers and their children happy and healthy. They quickly created a programme of education, exercise and games, which was then replicated at shelters across the country. 
Despite a challenging year, there are countless more inspiring stories of Scouts taking action for a better world in 2020! 
Our Chief Ambassador of World Scouting Bear Grylls said it best: "Thank you for stepping up and stepping in where your communities need you most. Now more than ever, we need that spirit."
We look forward to new inspiration in 2021, filled with Scouting fun, friendship and service towards our communities! Don't forget, you can submit your Scout stories through your Scout.org account. Use the hashtag #Scouts when posting your Scouting photos so we can see how you are shaping your communities!
For more inspiration, follow @worldscouting on Instagram, Facebook and Twitter.