World Scouting partners with WWF to launch new Panda Badge for urgent action on nature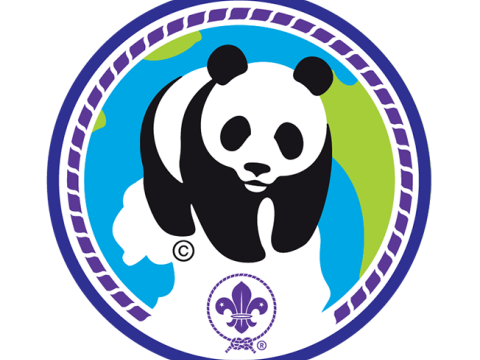 West Virginia, USA, 25 July 2019 – World Scouting is launching its new Panda Badge today at the 24th World Scout Jamboree in partnership with WWF. The new badge aims to raise awareness among Scouts and inspire action on nature and the environment in recognition of the enormous challenges facing the planet and the important role of young people in creating a more sustainable world.
 
Formerly known as the World Scout Conservation Badge, the Panda Badge will inspire more than 50 million Scouts and young people in 224 countries and territories around the globe to create positive change in their communities and tackle the world's most pressing environmental challenges, including fossil fuel consumption and deforestation.
 
The Panda Badge is part of World Scouting's revamped environment programme, the Earth Tribe Alliance, that engages young people in education about sustainable development. The Panda Badge specifically addresses responsible consumption, helping young people to better understand the impact of their consumer habits on the environment and how to make more sustainable choices. Scouts can earn the badge by completing three levels of age-appropriate educational activities and carrying out community projects in service of the environment.  
"Scouting has always been very closely connected with nature, and partnering with the world's largest independent conservation organisation, WWF, allows us to strengthen that connection," said Ahmad Alhendawi, Secretary General, World Organization of the Scout Movement. "Through the new Panda Badge and our enhanced environment programme we can enable more young people to take action towards preserving nature and protecting our planet, while inspiring other youth to make more environmentally sustainable choices."
The launch of the new Panda Badge comes at a time when nature is in crisis. The worsening impacts of climate change, biodiversity loss, ocean pollution, soil degradation and water scarcity are threatening the collapse of our planet's ecosystems, along with the clean air, water, food and stable climate that they provide.
 
"WWF is excited to partner with World Scouting to mobilize young people for a healthy planet. The environment has always been central to the Scout Movement and together we want to inspire the environmental leaders of tomorrow," said Marco Lambertini, Director General, WWF International. "As nature declines like never before, the new Panda Badge gives young people the chance to learn more about the environment and the urgent steps they can take to conserve and use it sustainably. More than ever, we need active citizens to galvanize the global momentum required to inspire people to live in harmony with nature."
World Scouting and WWF have been key partners in the area of environmental education and awareness since 1973, collaborating more recently on mobilization efforts such as Earth Hour and Scouts for SDGs to make a contribution towards achieving the UN Sustainable Development Goals. Together with WWF, the activities to obtain the Panda Badge contribute towards SDGs 2 (Zero Hunger), 11 (Sustainable Cities and Communities), 12 (Responsible Consumption and Production) and 15 (Life on Land).
 
World Scouting and WWF are also supporting the United Nations Climate Action Summit 2019 and the United Nations Convention on Biological Diversity's Aichi Biodiversity Target 1 so that by 2020, at the latest, people are aware of the values of biodiversity and the steps they can take to conserve and use it sustainably.
 
For more information, contact:
Julien Anseau, Media Relations Manager, WWF International, Singapore
Email: news@wwfint.org
Tel: +65 9233 8270
Carla Simões, Director Youth Programme, World Organization of the Scout Movement (WOSM)
Email: carla.simoes@scout.org
About WWF
WWF is one of the world's largest and most respected independent conservation organizations, with over 5 million supporters and a global network active in more than 100 countries and territories. WWF's mission is to stop the degradation of the Earth's natural environment and to build a future in which humans live in harmony with nature, by conserving the world's biological diversity, ensuring that the use of renewable natural resources is sustainable, and promoting the reduction of pollution and wasteful consumption. Visit www.panda.org/news for latest news and media resources and follow us on Twitter @WWF_media
About the World Organization of the Scout Movement (WOSM)
Scouting is the world's leading educational youth movement, engaging millions of young people to be active citizens and create positive change in their communities. The World Scout Movement is made up of more than 50 million Scouts connected together through a global membership of 170 National Scout Organizations. For more information visit www.scout.org or follow us on Twitter @worldscouting