Waterborne illnesses drop in five South Sudan schools thanks to Scout initiative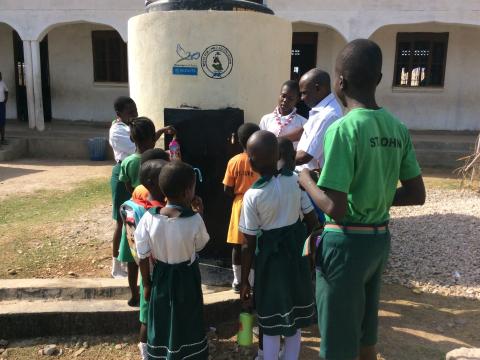 Only about half the population of South Sudan's capital has access to safe, clean water leaving thousands of people vulnerable to outbreaks of dangerous waterborne diseases like diarrhoea and cholera.
After visiting a primary school in Juba and seeing first-hand the filthy water that children were drinking, Patrick Kilo Evans, 22, decided to do something about it.
Funded by the Messengers of Peace Support Fund, Evans' Water for Child project makes sure schools have clean water tanks, and that children and teachers understand the importance of hygiene. It now operates in five schools in Juba and has trained scores of Scouts to educate people about clean water. As a result, Evans says incidences of waterborne illness have dropped sharply.
Evans, who started in Scouting in 2002 before South Sudan got its independence, has just been named one of 12 Messengers of Peace Heroes for 2018.
We asked him about his work and what it means to win the award.
The Water for Child project is providing thousands of primary school children in Juba with access to clean water. What was it that inspired you to start the project?
In 2017, we visited AIC Primary School in Juba and found children drinking water from drums that were not clean and contaminated the water. The children were also using their dirty clothes to try and filter the water.
On talking to the headmaster, he confirmed that between 20 and 25 children got sick and missed school every week due to drinking contaminated water; some even two to three times a week from diarrhoea and coughing. Whenever the water in the drums were finished the pupils had to go far away - about two kilometres - to get water to drink. By doing so they end up missing some lessons. Even teachers sometimes missed classes as result of the contaminated water.
That is what motivated me to want to try and help keep these children in school. So I developed the project together with my Rhino Rover Crew, and we now have the project running in five different schools.
What has been the impact of the project?
We have so far realised a reduction of close to 55% in water-related diseases. We have also provided clean water not only to schools but also to churches and nearby communities, since the schools are built in church compounds. Many children now do not have to miss school due to waterborne diseases or to go out to look for water.
We have also trained 60 Scout hygiene promoters from the five different schools to advise pupils on how to use the water facilities, and clean the schools. They give daily lectures during assembly on water hygiene. As a result, about 600 young people have decided to become Scouts – and the number is growing.
The hygiene promoters also visit the different schools for talks and challenges around water and hygiene. This has helped to create good relations between these five schools – something that never existed before.
Based on the success of the project, we have seen the local and national leaders coming to take a look and wanting to be involved in what Scouts are doing. For instance, they gave   free training facilities and involve us in health campaigns through the Ministry of Health. This is a good thing for us.
What challenges have you encountered in implementing this project?
The country's financial crisis, especially with high inflation rates, means that we had a little less money than what was budgeted for to implement the project. The conflict situation in the country has also been a great hindrance.
What do you plan to do next?
The five schools are not the only ones having water problems. Hundreds of schools in the country are facing the same challenge and so we would like to bring this project to as many of them as possible. We will begin by first doubling the number of schools from five to ten and hope that as time goes by we can reach more and more.
We also want to involve more young people as hygiene promoters and work with other partners to realise safe drinking water for everyone in South Sudan.
How does it feel to be named a Messengers of Peace Hero?
Wow! It feels awesome. When I was nominated I was shocked. I went to my mum and shared the wonderful news. It's not just a hero with the title. I want to connect the title with action so that people can also benefit from my work. As the first MOP Hero in South Sudan, I also want to inspire more young people in our fledgling nation to play a role in making our country better.
What effect do you think being named a Hero might have on your project?
It will motivate and give me courage to work even harder in the project towards making South Sudan free from waterborne diseases. I think it will give some visibility to not only our project, but also to Scouting in South Sudan which does not receive a lot of international recognition. I hope it can also inspire our government to work more with Scouts to support young people in and out of school.
What would be your advice to other Scouts who want to start a project to help their community? Do you have any tips for success?
Once you get inspired, follow your heart. Do what you feel you're passionate about. "Yes, I can do it!" should be your motivating words. Strict monitoring and evaluation of projects is also very important in ensuring you run a successful project. And, above all, get support from those around you to keep you going, just like I received from my Association and from the Africa Support Centre.
Meet all 11 Messengers of Peace Heroes recognised in 2018