Ivorian Scouts Make Masks and Face Shields to Support COVID-19 Response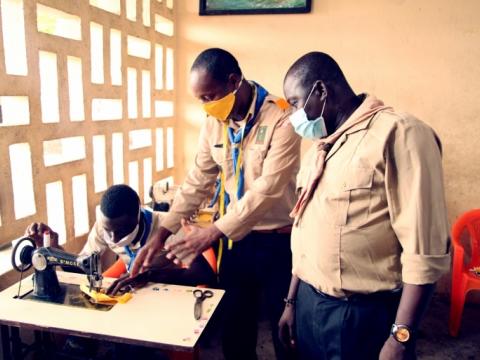 Scouts from Cote d'Ivoire have launched an entrepreneurship project dubbed Scouts in Action to contribute towards the COVID-19 response efforts. The project based in EPP BAD School in Adjamé involves sewing facemasks and making face shields for distribution to students and vulnerable people, especially those from poor neighborhoods. The face shields will also be distributed to the seven police stations in the region. The Scouts are using their skills to help their immediate communities respond to COVID-19.
Speaking at the launching ceremony, Fabrice Ouattara said that, "The project is a part of other various actions being taken by Scouts in the region. I call on all of us to get involved and contribute to the success and sustainability of the project in the long term. We are part of the many Scouts worldwide that have mobilized to take action against COVID-19 and fight against its spread."
As part of the national campaign to combat COVID-19, the Scouts have also donated face shields to law enforcement officers at the Administrative Police Station in Abobo. "Police Officers are in contact with the population in the exercise of their function to protect the people. It is therefore important to give them all the help they need," says the Regional Commissioner, Bamba Ousmane.
This project being implemented in North Abidjan region is supported by World Scouting's Emergency Response Fund for COVID-19 that was established to help Scouts continue supporting their communities in need.