HeForShe at the World Scout Jamboree, Youth Leading the Way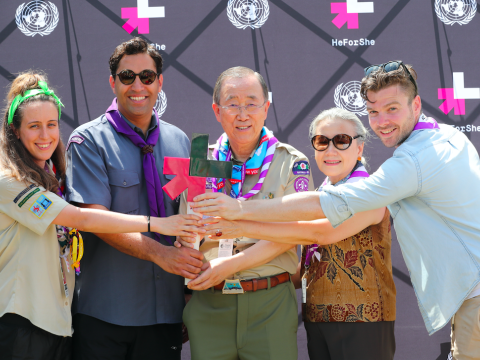 •    World Scouting, in partnership with HeForShe – the global solidarity movement for gender equality, invites international Scouts to commit to gender equality, engaging over 40,000 Scouts at the 24th World Scout Jamboree.
•    The partnership for gender equality between HeForShe and World Scouting builds momentum as thousands of international Scouts join the HeForShe movement, filling a critical gap to engage both girls and boys in achieving gender equality.
•    The HeForShe Baton – a traveling symbol of the HeForShe global solidarity movement - was passed from World Scouting Secretary General Ahmad Alhendawi to former United Nations Secretary-General, Ban Ki-moon, sharing the mantle for gender equality ahead of the 2023 World Scouting Jamboree in South Korea.
Beckley, West Virginia August 2, 2019:  The UN Women HeForShe Initiative and the World Scout Movement have this week helped move the needle on gender equality at the 24th World Scout Jamboree in West Virginia, USA, with 40,000 youth from over 150 countries. This partnership is the result of World Scouting's commitment to the global solidarity movement HeForShe. 
The 24th World Scout Jamboree, the largest global youth education event and an international gathering of Scouts, was held July 22 through August 2 and saw tens of thousands of international Scouts come to learn and discuss issues of development and gender equality. Scouts also showed their commitment to gender equality by signing up to join the HeForShe movement for gender equality online. Scouts from around the world participated in gender "Scout Talks" and engaged the HeForShe Action Kit for Scouts to explore the role that they can play in their societies to create a gender equal world.
"By learning about gender equality and talking about what it means in today's world, these young people are taking important steps as a new generation of allies," commented UN Under-Secretary General and Executive Director of UN Women Phumzile Mlambo-Ngcuka. "There is great mobilization potential here, given the 50 million or so Scouts worldwide. This is a partnership that can bring the HeForShe movement's messages of change into whole communities."
Ahmad Alhendawi, Secretary General of World Scouting, reinforced his commitment to gender equality and to inspiring millions of Scouts to create a more gender equal world by joining the HeForShe movement. 
"This World Scout Jamboree is a point where we culminate and emphasize this commitment by joining forces with Scouts around the world to champion gender equality and to say as Scouts: we are HeForShe," said Alhendawi.
"We believe that this Jamboree is a major highlight in our partnership, but our efforts to continue mobilizing young people for gender equality will go far beyond this event."
In 2017, World Scouting Secretary General, Alhendawi became a HeForShe Champion with an ambition to see 50 million Scouts commit to achieving gender equality. Thousands of Scouts have already responded with a resounding "Count me in!", and many more joined the movement in West Virginia.  
Also present was former United Nations Secretary-General Ban Ki-moon, on hand to welcome the world to the next World Scout Jamboree to be held in South Korea in 2023. "As the very first man to sign up to be HeForShe, I am especially proud to see how far the movement has come, and that it continues to grow stronger. The partnership between HeForShe and World Scouting is a testament to cooperation, solidarity and progress in our world," stated Mr. Moon, who championed the HeForShe Initiative during his UN Secretary-General tenure and is currently the patron of the 2023 Word Scout Jamboree.  
As a highlight of the closing ceremony of the Jamboree, World Scouting Secretary General Ahmad Alhendawi passed the HeForShe Baton to Ban Ki-moon, symbolizing a sharing of responsibility to mobilize men and boys to stand up for gender equality. "As we accept the baton of hosting this wonderful event, we also receive the HeForShe Baton for gender equality, and take on the responsibility to build a more gender equal world. There is no better place to start than our youth," added the former UN Secretary General. 
About HeForShe
Created by UN Women, the United Nations entity for gender equality and the empowerment of women, the HeForShe solidarity movement for gender equality provides a systematic approach and targeted platform where a global audience can engage and become change agents for the achievement of gender equality in our lifetime. HeForShe invites people around the world to stand together as equal partners to craft a shared vision of a gender equal world and implement specific, locally relevant solutions for the good of all of humanity.
About World Organization of the Scout Movement (WOSM) 
Scouting is the world's leading educational youth movement, engaging millions of young people to be active citizens and create positive change in their communities. The World Scout Movement is made up of more than 50 million Scouts connected together through a membership network of 170 National Scout Organizations.