2017 World Children's Day - #KidsTakeOver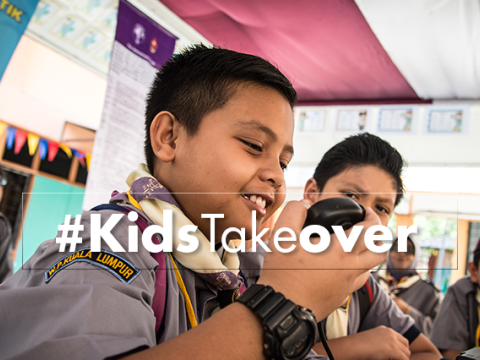 Young people are our future. Today's young people are tomorrow's scientists, politicians, doctors, teachers and the list goes on. In the future, they will inherit everything that we possess and accomplish, and will be charged with protecting the weak and vulnerable of this world, possibly making some of the hardest of decisions in order to do so.
World Children's Day was first announced by the General Assembly of the United Nations in 1954. Originally, its goals were to encourage children of all races, creeds and religions to spend time together, getting to know each other and appreciating each other's differences, and to prompt governments worldwide to pay more attention to the welfare of their youngest citizens.
Although World Children's Day takes place on 20 November, each country has its own date set aside for the celebration. In South Sudan, for example, Children's Day is celebrated on 23 December, in Cuba on the third Sunday of July, and in Poland 1 June.
Since being established as a holiday, World Children's Day has been tied to many different, honourable causes such as the commitment to eradicate HIV/AIDS by 2015, to provide every child access to an education and to promote peace, respect and concern for the environment un.org/en/events/childrenday/. You should consider engaging and participating in great World Children's Day activities organised by Non-Governmental Organisations such as UNICEF.
This year we celebrate World Children's Day by empowering them to change the world around them, by inspiring the hope and imagination in them, which will help them to change the world in the future. Therefore, we are asking all leaders and Scout masters to ask their Scouts this simple question, 'What is the one thing that you will do if you have the power to change something?'
Ways to Celebrate World Children's Day
Here are some activities you can organise during the weekend to mark day:
Get Informed
Did you know that 385 million children live in extreme poverty, 264 million children and young people are out of school, 5.6 million children under the age of five died last year from preventable diseases? Get informed about the facts and figures of children in your local community and your country. Start discussions with adults and young leaders and think of ways Scouts can help to address these issues.
Take Action
#KidsTakeOver
• We want to hear young people's voices, and to let them share their views and hopes for the future with the world. We encourage leaders to produce videos of their young people responding to the questions: What would you do to change your community in a positive way if you were the president, a doctor, the Minister of Education, etc.
• Organise discussions and record their thoughts and aspirations
Young People for the Sustainable Development Goals (Selfie Mission)
• Young people can advocate and become Sustainable Development Goal (SDG) ambassadors. Join us in educating more people about the SDGs. Help Scouts to explore the ways they can contribute to its achievement.
• Introduce the SDGs in an attractive way through games and activities. Talk about them and show them how they are impacted by the SDGs. Find out about the one thing that inspires them the most and show them how they can contribute by taking simple actions. End the activity with an SDG selfie and ask them to post their reflections online (with the help of an adult). Don't forget to include #SDG and #Scouts in the post.
Draw the future you want
• Young people have dreams and goals, and what better way to do help them express and share them than by drawing themselves in the future. Let them show their creativity and skills, talk about their dreams and ways they are going to achieve their dreams.
Share, don't just care!
• Do you have clothes that you don't need anymore, an extra bag that you don't want? Donate them. You can also visit orphanages and homes for the elderly and spend some time with them this weekend.
Share to Inspire
Don't forget share your pictures, activities, videos with us on scout.org and on social media using the hashtags #kidstakeover and #Scouts.
Happy World Children's Day to all Scouts!