Enabling Communities to Protect Themselves from COVID-19 and Other Illnesses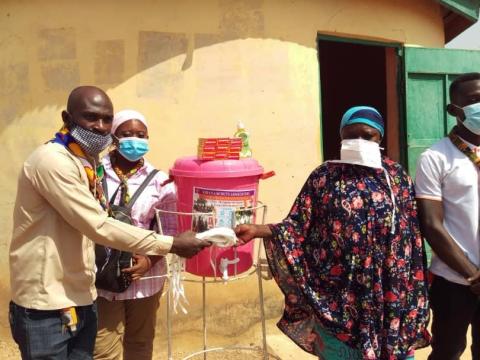 Northern Region, Ghana: Isolated, cornered, and dependent on the big cities to cope with the global pandemic, some villages and rural areas in Ghana found themselves in a difficult position in the fight against COVID-19. To enable as many people as possible to cope with the changes brought about by the pandemic, Scouts of Ghana visited about 50 communities and reached 4,000 people from 600 households with information, handwashing protective equipment to help them manage the risks.
"The team also built tippy taps and placed buckets in strategic locations in the communities visited, such as churches, mosques, and chiefs' palaces, to ensure that people wash their hands regularly and easily. We thank the Africa Scout Foundation Youth Fund for granting us the resources to implement this project," says Mohammed Andani, Chairman of the National Youth Advisory Committee of the Ghana Scout Association, and Coordinator of the Scouts Against COVID-19 Campaign.
The Tippy Tap Hand Washing Stand is a simple structure constructed with a bottle, a rope, and sticks. Two of the sticks are mounted at least one meter away from each other and another stick is placed across the two upright sticks. The bottle is then hung in the middle of the crossing bar and a hole is made below the neck of the bottle. A rope is passed through it to the ground where another stick is tied where one would tap with their leg for water to flow. The bottle is then filled with water and soap placed on the side. Anyone who wants to wash their hands simply taps the stick tied to the rope with their foot and water flows from the hole below the bottle's neck.  The Tippy Tap is not very difficult to construct and requires not very many materials make.
The Scouts constructed at least five tippy taps in each of the 25 selected communities where they also taught some members of the community how to construct them and donated bottles and ropes for them to construct more at home.
"We also took advantage to teach them how to properly wash their hands, taking into consideration the important parts of the hands germs usually hide and the key times that they must wash their hands. We gave out medicated soaps to individuals and liquid handwashing soap per every Tippy Tap constructed," adds Mohammed.
Through this initiative, Scouting in Ghana has benefited on a national level with an increase in its visibility in times of crisis. The project has demonstrated the preparedness and usefulness of Scouts when their communities needed them most. It is expected that in the end, the habit of proper handwashing amongst people in the rural communities will have been adopted and practised so much that it becomes a norm, and as many people as possible will have access to handwashing stands, soap and sanitisers to keep their hands clean at all times thereby protecting them from many illnesses.
Read more at: https://sdgs.scout.org/post/scouts-ghana-construct-tippy-tap-hand-washing-stands-rural-communities-quest-fight-against
---
The mission of the Africa Scout Foundation is to promote the growth of Scouting and support more young people in Africa to gain knowledge, develop skills and attitudes through quality educational programmes towards creating a better world by continuous accumulation of capital funds. These funds are raised through donations, grants, membership contributions and other legal methods of fundraising. The Foundation also seeks non-capital donations to support specific Scouting projects. This is with a vision of "ensuring a future for Scouting in Africa. For more information visit https://africascoutfoundation.org.