Fighting Climate Change one Spekboom at a Time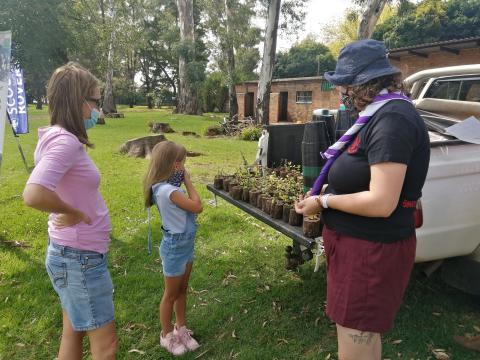 Gauteng, South Africa: The Prometheus Rover Crew has been busy fighting climate change and air pollution in Gauteng by distributing Spekboom and educating Scouting members throughout the province on how to plant and care for them at various Scouting properties.
The aim of the project, supported by the Africa Scout Foundation Youth Fund, is to have 550 Spekboom planted throughout the Gauteng Region, with the hopes of establishing Spekboom thickets and bettering the climate. Spekboom acts as a carbon sponge removing carbon dioxide from the atmosphere which then improves the quality of air.
In addition to the green aspect, the project hopes to make a difference in the long term, and allow young people to meet, exchange ideas and feel empowered about the ecological issues of tomorrow. Thanks to its method, the project is estimated to have reached at least 5,000 young beneficiaries across the province.
The plants were distributed to Scout Groups with the intention that they care for the Spekboom, teach their youth members and propagate from those they have received. The team have set up Spekboom "Mother bushes/thickets" at Arrowe Park and Gilwell to support this. To ensure the eco-educational objectives are reached, the team has also produced a "Spekboom care guide".
Now that all the Spekboom have been planted and distributed the group plans to map the locations of all Troops that received Spekboom and calculate the carbon footprint implication.
Read more at: https://www.scouts.org.za/2021/06/05/soekboom-initiative-gauteng-climate-change/
---
The mission of the Africa Scout Foundation is to promote the growth of Scouting and support more young people in Africa to gain knowledge, develop skills and attitudes through quality educational programmes towards creating a better world by continuous accumulation of capital funds. These funds are raised through donations, grants, membership contributions and other legal methods of fundraising. The Foundation also seeks non-capital donations to support specific Scouting projects. This is with a vision of "ensuring a future for Scouting in Africa. For more information visit https://africascoutfoundation.org.