WOSM and KAICIID publish survey on spiritual development in Scouting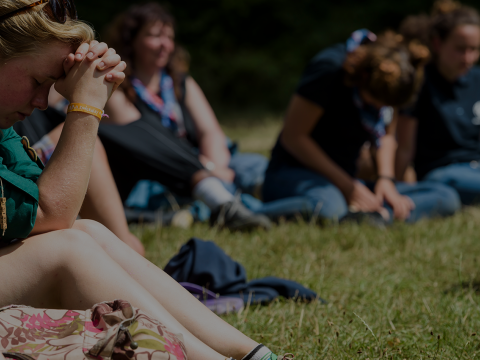 The World Organization of the Scout Movement (WOSM) and the International Dialogue Centre (KAICIID) had recently completed an extensive survey on the role of "Spiritual Development in Scouting".
The survey, which poled feedback from 116 National Scout Organizations (NSOs), was conducted to research ways to strengthen understanding and programming in spiritual development within Scouting.
It found that Duty to God, one of the three main principles of Scouting, is an important part of Scouting for many Scouts, and furthered understanding of the role of religion within the movement. The findings will help those involved to understand religious and broader spiritual dynamics within Scouting, depending on whether the environment is predominantly religious or secular. This is key in improving their work and promoting understanding and tolerance among Scouts from diverse cultural, religious and spiritual backgrounds.
Key findings:
Spiritual development is a key element for many WOSM members.
The role of spirituality varies greatly depending on geographic location: while most NSOs in Africa, Latin America and Arab countries see Duty to God as the key principle of Scouting, most European NSOs and many in Asia emphasise spirituality without necessarily linking it to religion.< 
Among the Scouts, spiritual development is most often practiced through personal reflection, followed by group reflection and discussions, and then, for some troops and NSOs, by participation in religious rituals that take place once a week or more frequently. 
The World Scout Committee set up the Duty to God Task Force in 2015 to analyse, evaluate and assess how Duty to God is implemented among WOSM members, and it conducted two surveys that addressed all NSOs/NSAs and members of the Interreligious Forum of World Scouting, including dialogue skills essential to many aspects of Scouting activities such as spiritual development.
The next step is to improve inclusion of spiritual development in the WOSM Youth Programme as well as to provide activities related to spiritual development and adapt to the needs of current and future Scouts.
Read the full report here.
WOSM and KAICIID partnership
The collaboration between WOSM and KAICIID started in November 2013 with the signing of a memorandum of understanding to "encourage interreligious and intercultural dialogue" and to join efforts in "improving relations among people of different religions and cultures". Through joint programming, KAICIID has been helping WOSM introduce knowledge about and practices of dialogue into Scouting with the aim to incorporate dialogue into Scouting. The current strategic plan of the collaboration between KAICIID and WOSM includes joint activities running until the 41st World Scout Conference in Baku, Azerbaijan, in August 2017, when the Dialogue Programme is anticipated to be adopted at the global level as part of the WOSM Youth Programme.