Next Secretary General Announced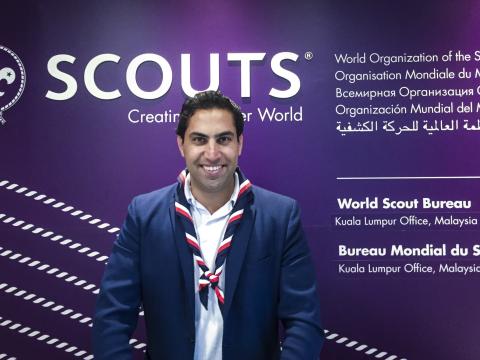 It is our absolute pleasure to announce the appointment of our Mr Ahmad Alhendawi as the next Secretary General of the World Organisation of the Scout Movement (WOSM).
Mr Ahmad Alhendawi will start in March of 2017 after completing his term as the first-ever United Nations Secretary-General's Envoy on Youth. As the Secretary General of WOSM, Mr Alhendawi will be entrusted with the mandate of promoting and safeguarding the interests of the Scout Movement. As its Chief Executive Officer, he will also direct its Secretariat, the World Scout Bureau.
Mr Alhendawi began his involvement in Scouting at the age of 13 when he joined the movement in Jordan. He has maintained an interest and involvement in youth support, the Scouting movement, and non-formal education throughout his career.
His previous experience includes work as the Youth Policy Advisor in the League of Arab States, and Team Leader for a League of Arab States programme on institutional development to strengthen Arab youth policy and participation. Among other roles, he has also served as a Team Leader for the National Youth Policy Project in Iraq, a Youth Programme Associate at the Iraq office of the UN Population Fund (UNFPA), Emergency Programme Officer at the non-governmental organization Save the Children.
His recent engagement with Scouting includes making the closing speech at the World Jamboree in Japan 2015, as well as the keynote speech at the 12th World Scout Youth Forum in 2014. Scouts who have met Mr Alhendawi at various events have consistently appreciated his open manner, and his active and friendly engagement with Scouts.
"I believe that Scouting continues to hold a solution for youth development in the 21st century. I look forward to working with the WOSM team to expand the Movement and deepen its social impact, while continuing to create a better future for youth," said Mr Alhendawi, upon accepting the role of WOSM Secreatry General.
We are confident that his extensive experience and knowledge will strengthen Scouting's profile and lead us towards our Vision for 2023.
You can learn more about Mr Ahmad Alhendawi in this biography.