Chief Ambassador Bear Grylls inspires millions of young people at World Scout Jamboree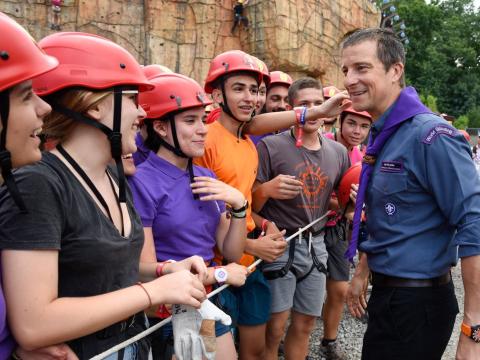 GLEN JEAN, WV, July 24, 2019 - 45,000 young people got an extraordinary thrill when Chief Ambassador of World Scouting Bear Grylls made a surprise appearance at the 24th World Scout Jamboree. Bear arrived at the 10,000-acre Summit Bechtel Reserve in West Virginia in true adventure style heading straight for Boulder Cove, a giant rock climbing wall in the centre of the campsite designed to engage youth in leadership and skills-building activities. 
From there Bear made his way by ATV to the multi-story Sustainability Treehouse to sit down and talk with Scouts from around the world. The living education centre built as a model for sustainability was the perfect backdrop to chat with a dozen young change-makers from the UK, US, Philippines, Korea, Slovenia, Ukraine, Egypt, Brazil, Ethiopia, Namibia and South Sudan about the value of being active global citizens who are taking action to improve the sustainability of their communities. 
"I was really excited to meet Bear, I have looked up to him since I was a Cub Scout," said 18-year-old Helena Sarah Kovrič with The Scouting Association of Slovenia. "After meeting him, I will work to inspire Scouts and others to do more good work to save the planet and contribute to the Sustainable Development Goals."
Bear's visit culminated in a high-energy abseiling entrance onto the main stage of the Jamboree to deliver an inspiring talk to 45,000 Scouts seated in the audience. Bear shared a message of hope to create a better world, encouraging young people to stand up for the environment, be champions for gender equality, and take care of the planet. 
He also thanked millions of young people watching the show in person and via livestream around the world for their contribution to global campaign for the Sustainable Development Goals leading up to Jamboree that saw Scouts complete more than 2,000 local projects totalling nearly 40 million hours of community service. 
"Scouts you have my absolute respect by playing such a key role in shaping the next generation of global citizens," said Chief Ambassador Bear Grylls. "You are changing your communities and our society for the better from inside out - an unstoppable force for good - and we are only just getting started!"
The 2019 Jamboree is the largest outdoor educational event organised by World Scouting, gathering Scouts and leaders from more than 150 countries for 12 days of activities and adventure. The 2019 Jamboree is the largest ever and is being jointly hosted by Boy Scouts of America, Scout Canada and Asociación de Scouts de México.