Scouts Provide Relief for Victims of Cyclones Ana and Batsirai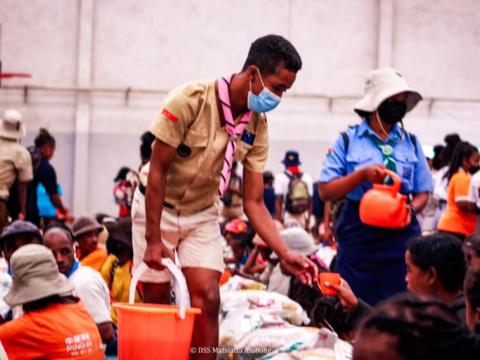 The tropical cyclones Ana and Batsirai which started in late January 2022 have brought with them great devastation across parts of Madagascar, Malawi, Mozambique, and Zimbabwe. From massive flooding to the destruction of homes and crop fields and even loss of life and property, hundreds of thousands of people have been left homeless and in desperate need of humanitarian assistance. Scouts from these countries, working together with other local and international humanitarian agencies and well-wishers sprang into action to help.
In Madagascar, Scouts aged 18 years and above together with their leaders have been volunteering in accommodating centres to support the rescue efforts inspired by the Scout motto to "be prepared" and driven by a desire to make an impact. They have so far assisted with conducting a census of the victims who were in the accommodation centres to map out and reunite the families. They are also raising awareness and providing warning signs and monitoring sexual abuse among women and children in the accommodation centres. To cheer up the victims, Scouts and guides are organizing fun and entertainment activities for children. More critically, the Scouts have made donations of foodstuffs, clothes, and other necessities to the families, aside from helping to construct temporary sanitary facilities to promote hygiene and curb potential waterborne illnesses. Read more at https://sdgs.scout.org/post/les-scouts-aident-les-sinistres-du-cyclone-anna and https://sdgs.scout.org/project/give-hands-other-difficult-time.
Further in Zambia, with support from the Mineworkers Union of Zambia and the Zambia Air Force, the Scouts have made donations of over 500 bags of foodstuffs to communities in Gwembe District which is one of the most affected areas. The Scouts identified about 500 families that needed support and reached out to partners to facilitate the donations that will go a long way in uplifting the welfare of the families, even as they continue to mobilize for more assistance. Here is a news report about the Scouts initiative by the Zambia Information and News Services, a public relations wing of Government under the Ministry of Information and Broadcasting Services: https://youtu.be/SrdlDia65u8. In Karonga District, the Scouts have provided 9 families with temporary shelter after floods and string winds rendered them homeless. Learning cannot continue in 3 schools in the district as a result of the floods.
The impacts of these disasters continue to manifest in multiple ways and will become more apparent in the coming days. Scouts in Africa are quickly mobilising support to be channelled through National Scout Organizations of Madagascar, Malawi, Mozambique, and Zimbabwe to reach at least 2,000 young children and Scouts impacted by the natural disaster. 200 Rover Scouts are being mobilized and will be actively involved in offering services to the affected communities. After the cyclone is over, the Scouts from the affected areas will continuously undergo training on emergency response and contingency plan development to mitigate against any possible future encounters of this kind.
The Scouts need your support to expand their relief efforts for the thousands of people in need. Visit the Scout Donation Platform to contribute to this Scouts Emergency Response Project: https://donate.scout.org/project/85bbeda3-89e8-4ba8-ae4f-fda4276b4a1a.
https://donate.scout.org/project/85bbeda3-89e8-4ba8-ae4f-fda4276b4a1a