Scouts Addressing Food Security in the Philippines through Urban Agriculture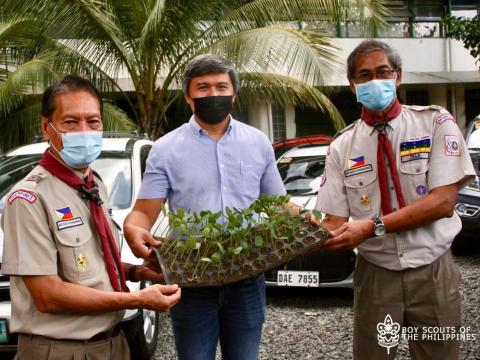 The Boy Scouts of the Philippines (BSP) has partnered with Philippine Government's Department of Agriculture through its Bureau of Plant Industries (BPI) to launch an urban agriculture project aimed at ensuring food availability and economic gains through an alternative source of livelihood for Scouts in Metro Manila and other pilot areas where community quarantine is being implemented.
 
"We must start with ourselves, in our offices and Scout camps nationwide. The BSP recognizes the importance of promoting urban agriculture as a measure to address the stability of food supply, alleviate poverty, foster social integration among communities, and protect the environment through eco-friendly methods and other alternative and innovative gardening methods", said BSP Secretary-General Rogelio S. Villa, Jr.
 
At an online seminar on Urban Agriculture conducted to launch the project, Scouts were introduced to the basics of urban agriculture, how to acquire and plant seeds and how to prepare a site for planting, among others to educate and prepare them to take part in the project. 
 
Emphasizing the importance of the urban agriculture project and the role that Scouts will take, Mr Villa said that Scouts and Scout Leaders nationwide are eager to start the project and that numerous Scout units are already practising and promoting urban agriculture as their projects for the Scout of the World Award Programme.
 
The project was introduced to cushion Scouts and their communities from the impacts of the COVID-19 pandemic relating to the availability of food crops in urban areas in the country. It aims to ensure the availability and accessibility of safe and fresh vegetables in urban areas.
 
"Our 3 million Scouts across the country will take a major role in the implementation of this project with the hope of addressing the stability of food supply and alleviating poverty. Just as we have done in the past, we will continue to protect the environment through eco-friendly and other alternative and innovative gardening methods," said the BSP National President, Roberto M. Pagdanganan.
The Department of Agriculture will provide BSP with the initial agricultural inputs for the project such as seeds, plastic sheets, nets for greenhouses, and knapsack sprayers, including urban agriculture gardening modules and technical assistance. Throughout the project, BSP will establish urban agriculture gardens at its national headquarters in Manila and all of its Scout camps across the country.
 
Since the outbreak of Covid-19, Scouts around the world have been responding to the needs of their communities on an individual and group level from awareness-raising to deliveries of essential items. World Scouting set up a Covid-19 Emergency Response Fund, where you can donate to help Scouts continue supporting their communities in need. All funds will be channelled directly to support National Scout Organizations.