25 Scouts awarded as Messengers of Peace Heroes for their contributions towards peace and sustainable development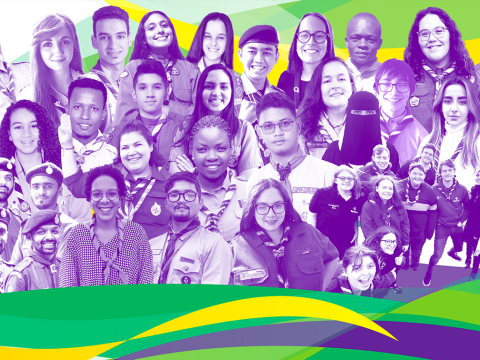 This year World Scouting is recognising 25 young people for their outstanding service and contributions towards building peace and promoting sustainable development in their communities. Today the young leaders will be named Messengers of Peace Heroes in an award ceremony under Scouting's flagship initiative, Messengers of Peace, which is celebrating 10 years of impact around the world.
Held virtually this year, the award ceremony will honour the young Messengers of Peace Heroes and highlight stories of their unique community-based projects. The award recognises the service and actions of young people across five categories related to the Sustainable Development Goals (SDGs): environment, peace-building, life skills, health and well-being, and COVID-19 response.
Among the youth-led projects being recognised are those offering urgent community relief efforts during the outbreak of COVID-19 in Tunisia, establishing education centres for underprivileged children in Colombia, empowering girls through awareness about reproductive health in Kenya, providing mental health support to young people in the United Kingdom, and working across Nepal to combat food insecurity.
Messengers of Peace connects young peace-builders together in a global network and inspires them to play a leadership role and become active citizens in their communities. Since 2010, the Messengers of Peace initiative has involved nearly all 172 National Scout Organizations and empowered Scouts to lead more than 16 million community development projects delivering over 2.5 billion hours of service towards the SDGs.
The Messengers of Peace ceremony will also celebrate the many National Scout Organizations and volunteer adult leaders who have supported these Messengers of Peace Heroes on their educational and community service journey. By recognising individuals and organisations for their contributions, World Scouting aims to inspire even more young people to become Messengers of Peace. 
World Scouting proudly recognises the following 25 recipients of the 2021 Messengers of Peace Heroes Award:
Ahmed Mahmoud, Egypt
Ali Muhammed Amin, Pakistan
Bianca Iloaia Pîrvulescu, Romania
Charles Lubanga, Democratic Republic of Congo
En-Señas, Venezuela
Fakhir Naufal, Indonesia
Gambella Scout Group, Ethiopia
Group Grombalia El Medina, Tunisia
Ivy Akii Karushi, Kenya
Joana Bacelar, Portugal
 Jubille Marlourd Lucena, Philippines
Kayla Bernard, Canada
Krisly Nazareth Rodriguez Barrantes, Costa Rica
Mafeking Scout Group, India
Mariana Elizalde Cano, Mexico
Meghry Sirapionian, Armenia
Noura Aldbeeb, Saudi Arabia
Nour Elhouda Mahmoudi, Algeria
Pacôme Hermann Koffi, Côte d'Ivoire
Raymund Romeo Guzman, Philippines
Sabin Krishna Karmacharya, Nepal
Salifou Aïchatou, Benin
The UK Community Impact Group, United Kingdom
Viajeros entre Letras, Colombia
Viviane Ogou, Spain