Scouts learn to code during JOTA-JOTI and Expo 2020 Dubai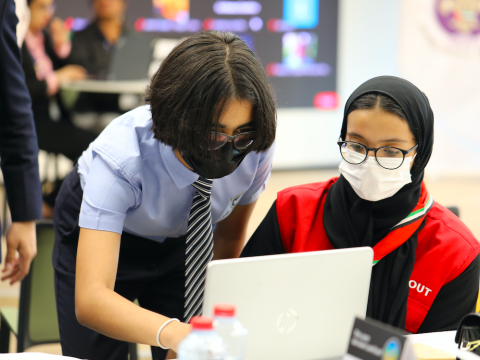 Hundreds of Scouts in the United Arab Emirates and around the world are learning how to code thanks to an innovative workshop being run as part of this year's JOTA-JOTI programme. The educational activity is one of the many exciting new elements being offered during the world's largest Scouting event taking place online and over the radio airwaves this weekend from 15-17 October. 
 
The workshop is the result of a unique collaboration between SAP, Gems Modern Academy, World Scouting and the Emirates Scout Association to give young people the opportunity to learn basic computer programming skills and prepare them for professional careers in the fields of science, technology, engineering, arts and mathematics. 
Scouts will take part in the workshop in-person at the SAP House during the Expo 2020 Dubai, a global event showcasing creativity, sustainability and innovation that recently opened its doors to the public on 1 October. Young people from around the globe were also able to join the coding workshop virtually as part of JOTA-JOTI's Innovation Lab programme area.
 
Wissam Kadi, Director of Global Initiatives at SAP Next-Gen and University Alliances, expressed his pleasure to host and inspire young thinkers during the coding event at the SAP House located in the heart of Expo 2020 Dubai:
"As the premier Innovative Enterprise Software Partner for Expo 2020 Dubai, SAP is proud to collaborate with World Scouting, Emirates Scout Association, and GEMS Schools to underline SAP's commitment to the Sustainable Development Goals with a focus on Goal 4 to lead the way on quality education."
Participants taking part in the workshop learned the basics of the Snap! computer programming language and then applied the skills they learned to design one of the 17 Sustainable Development Goal icons. By learning about computer coding during JOTA-JOTI, young people can expand their knowledge and curiosity about STEAM skills, which can help prepare them for future career opportunities.
"We're here today at Expo 2020 at SAP House to learn about their technology and execute the basics of computer programming using the Snap! We are very proud to be here today," said Alhoor from the Emirates Scout Association.
Every year, JOTA-JOTI offers millions of young people worldwide a space to connect, build friendships and learn about global citizenship while engaging in educational activities, online conversations, live shows, international campfires, fun challenges and amateur radio activities.