Dominican Scouts partner with local influencer, providing food to 300 families in need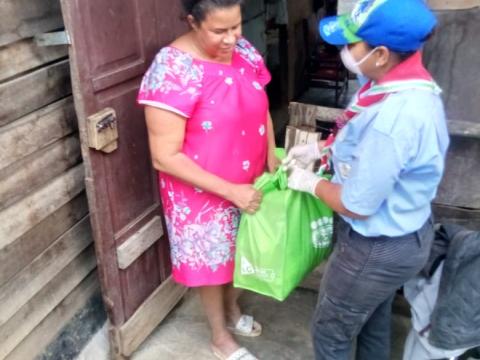 Due to some loss of jobs in many families, Dominican Scouts helped raise more than $75,000 USD to a local campaign, #YoMeQuedoEnCasaRD (#IstayhomeDR), through GoFundMe.com, in which they partnered with local photographer and filmmaker Jochy Fersobe to fundraise and provide their operational support. 
#YoMeQuedoEnCasaRD is a social media campaign started by Fersobe in Dominican Republic to fundraise for providing food to families in need, in the form of coupons that they can redeem at selected stores. Shortly after the campaign kick started, many public figures in Dominican Republic have joined and contributed to the campaign.
A Scout himself, Fersobe has led on this campaign by turning his Instagram profile into a fundraising tool and producing videos for #YoMeQuedoEnCasaRD. The funds raised aim at food provision for vulnerable families whose financial limitations were exacerbated by the Covid-19 pandemic.  
Scouts in Dominican Republic intervened and have taken on a leading role in the food distribution in several provinces. The Scouts are involved in the fundraising and logistical side of the campaign, as they have been purchasing the groceries, packaging them and delivering house-to-house in each province. 
To ensure their safety, Scouts followed social distancing recommendations by dividing the tasks between groups. One group was in charge of buying the groceries, another group was responsible for packing and a third group was the one delivering the packages to vulnerable communities. The groups did not work together, and within each group, social distancing measures were put in place. Then local Scouts in each province provided their assistance as they distributed the assigned packages to the families in need. 
To date, Scouts have provided food to 300 families across the cities of Santo Domingo and Santiago, in neighborhoods such as La Victoria, Los Alcarrizos, Los Guandules, Los Frailes, El Oxygeno, El Ejido and La Joya.  The #YoMeQuedo EnCasaRD has now raised over $75,000 USD and is still a growing campaign in Dominican Republic. 
The National Scout Organization in Dominican Republic, has turned part of its main office a collection center for food and non-food donations to help more families in need. Dominican Scouts are demonstrating the same duty to serve others as they had after the catastrophic 1979 Hurricane David, in assisting affected communities across the country. 
 
Since the outbreak of Covid-19, Scouts around the world have been responding to the needs of their communities on an individual and group level from awareness raising to deliveries of essential items. World Scouting set up a Covid-19 Emergency Response Fund, where you can donate to help Scouts continue supporting their communities in need. All funds will be channeled directly to support National Scout Organizations.