The Scout who fought a totalitarian regime and became a hero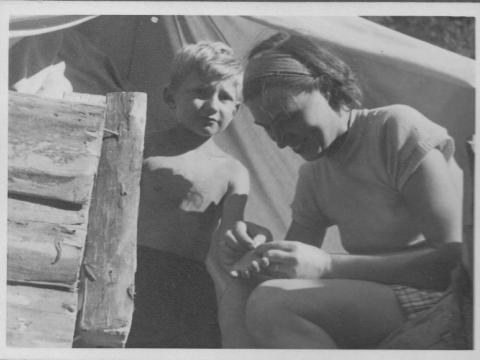 After a totalitarian regime came to power in Czechoslovakia in 1948, with the backing of the then Soviet Union, it cracked down on civil society and government critics, and jailed its opponents. The next year, in Prague, a small group of army officers decided they had to do what they could to overthrow the new regime. Among those who backed them was 36-year-old Dagmar Skalova, the leader of a Scout troop in Prague, who went by the name of Raksa. Scouting too had suffered as a result of the totalitarian takeover; first harassed and then banned. But Skalova also wanted a return to freedom.
"She serves as an example, as a role-model," said Eva Měřínská (Merinska), Chief Scout, Junak - Czech Scouting. "As one of the many Scouts who stood up to the totalitarian regime, she was brave. The strength to follow your ideals no matter what, that's something we don't encounter very often."
Working with her husband, who was also involved in Scouting, Skalova encouraged dozens of older Scouts to join the resistance, helping to send messages among the leaders planning the uprising, and providing medical assistance where necessary. But despite their best efforts the rebellion failed. Skalova and her husband were among those detained, and about 50 Scouts were also rounded up in the ensuing crackdown. By tapping Morse code on the walls of their prison cells, the Scouts were able to co-ordinate a common story for a legal system that was controlled by the totalitarian; that they were outside that night because they were taking part in a Scout game, and had simply been playing on the street.
For her part, Skalova accepted the blame for the Scouts' involvement in the planned revolt. As a result, only nine Scouts were jailed and their sentences – for between one and five years – were relatively short by the standards of the early totalitarian regime. Skalova, however, was found guilty of treason and jailed for life. Another Scout leader Jiri Navratil got a 20-year term (he was awarded a Bronze Wolf for services to Scouting in 2002), while the six main organisers of the coup were sentenced to death. Skalova had joined the coup because she sensed a lack of freedom, and saw the totalitarian system had led to incompetent political and economic leadership. From prison, she continued to campaign for democracy and freedom and in 1956 joined other political prisoners in writing a letter to the UN Secretary General about human rights violations in Czechoslovakia. Over the next few decades, in the shadow of the USSR, the regime at the time continued to maintain a tight grip over Czechoslovakia. It wasn't until the Velvet Revolution of 1989 that Skalova's dream of a free country became a reality, and Scouting in today's Czech Republic and Slovakia, was revived. Skalova is remembered as part of the Memory of the Nation project, and was awarded the Presidential Order of Tomas Garrigue Masaryk in 1997 in recognition of a life based on the Scout ideals of freedom, democracy and responsibility to others. Scouts in Pilsen, where she was born, continue to honour her memory today.
"Dagmar´s example shows us that it is necessary to find the courage to stand up to evil no matter what," Merinska said. "We learn from her story that creating a better world can also mean personal sacrifice. The founder of the Czechoslovak Scouting said: "Scouting excludes totalitarianism, totalitarianism excludes scouting." And the story of Dagmar Skalova illustrates that very well. Scouting, that´s freedom and democracy, these are our core values."