10 peace-building activities for young people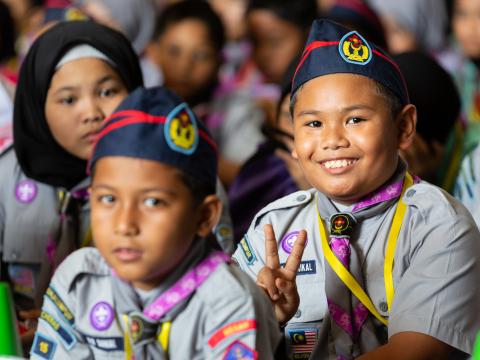 As Scouts, we're committed to creating a better world where there is peace, solidarity, dialogue and understanding.
Since we know that change starts with us, let's work with our Scout groups to build a culture of peace in Scouting! That can include helping Scouts feel peaceful with themselves, their peers and family, their local community and, eventually, their global community.
How do we teach young people about peace? To help you, we've collected 10 activities Scout Leaders and educators can facilitate with young people - including five for children under 11 years and five for those who are older.
Remember, even the youngest Scouts can make contributions and take leadership in building a culture of peace. 
Activities for Children (under 11):
Safe Spaces

In Scouting, we believe everyone must work together to create safe spaces. As a Scout Leader, you have a responsibility to do everything you can to create a safe space for discussion and openness. But every Scout, even young Beavers and Cubs, must also contribute.

In this Safe Spaces activity, children discover what makes a safe space and then build their own.

Click here to get the instructions for Safe Spaces and access their full set of activities on "Supporting Refugees and Displaced Children" here.

Created by: The Scout Association in the United Kingdom in partnership with Save the Children
 

Slow Leak

When we are calm and self-aware, we're in a better position to help others. This activity will help develop self-awareness and express imagination all while bringing a sense of calm.

In this short guided visualisation, participants relax as they pretend they are balloons, inflating and deflating.

Find this activity on pages 9-10 of the "Scouting in Humanitarian Settings Action Kit" - and be sure to check out the rest of the kit for more activities.

Created by: World Organization of the Scout Movement (WOSM)
 

Helping Hands

We all need someone to rely on when we're having a rough time. Sometimes, we need to remember who we can count on to be there for us.

By understanding who their support network is, the Helping Hands activity can show young Scouts that they are not alone when they face challenges.

Watch this short video explainer on how to do Helping Hands.

Created by: Scoutadelic vlog
 

Hunt the Ring

What does it mean to be part of a global community? How are we all connected? Some things, such as traditions, songs or ceremonies might look a bit different in different places, but no matter where they are, Scouts gain similar skills.

In the Hunt the Ring activity, Scouts will have fun while learning about differences, similarities and solidarity. They will learn a game from another country that's been affected by conflict, then think about their favourite games.

Click here to get the instructions for Hunt the Ring.

Created by: The Scout Association in the United Kingdom in partnership with Save the Children
 

Dialogue Chat

Young people look up to Scout Leaders, educators and other adults around them. We can help hold a safe space for children when they have questions or concerns about events they experience or hear about.

We can also teach them key communication skills, like dialogue, to help them have productive and meaningful conversations with people of various backgrounds and perspectives.

To get you started, check out these 10 questions to help children learn dialogue skills.

Created by: WOSM and KAICIID
Activities for Young People (11 years+):
Negotiating the Meaning of Personal Choices

This activity will help develop skills in negotiation and cooperation while building respect towards others. It promotes openness and curiosity, as well as readiness for negotiation.

Find this activity on pages 14-15 of the "Scouting in Humanitarian Settings Action Kit" and check out the rest of the kit for more activities.

Created by: World Organization of the Scout Movement (WOSM)
 

Displaced Cook Off

In this challenging cook-off, Scouts learn what life is like for those who must cook and eat after being displaced. This activity is part of a series of 24 activities to help young people learn about conflict, welcoming newcomers, community engagement, and more. The activities come in 5 parts: (1) Identify the need, (2) Plan action, (3) Take action, (4) Learn and make more change, and (5) Tell the world.

Click here to get the instructions for the Displaced Cook Off.

Created by: The Scout Association in the United Kingdom, in partnership with Save the Children
 

Dialogo! Game

Developing dialogue skills is a great way for young people to learn how to have productive conversations about difficult subjects, to practice active listening and self reflection.

Dialogo! is a game for young leaders and peace builders. The game teaches skills in dialogue, teamwork, speaking and social emotional learning.

Click here to download it for free print-and-play in 8 languages!

Created by: KAICIID
 

Fake News Workshop

The spread of misinformation or fake news can cause or aggravate crisis situations. Critical thinking and the ability to evaluate the truthfulness of fast-flowing information has become an essential skill for navigating the modern world.

Sharing reliable information can help promote peace and accurate understanding of crisis situations and the people affected. In this workshop, Scouts will develop critical thinking skills and learn to avoid fake news and look for reliable sources of information. 

Find it on pages 9-10 of this Peace Education guide (Spanish only). English forthcoming.

Created by: Federación de Escultismo en España
 

Celebrate Heroes of the Day

A simple way to build resilience, collaboration and sense of hope is to encourage people to identify what is going well and recognise the people who support others. You can achieve this using some simple prompts as an activity:
To start, ask participants to fill in the blank: "a good moment I experienced today is..." and "I feel grateful about it because..."
Next, ask participants to think about the impact other people have on such good moments by filling in these blanks: "I want to recognise [person's name] because they [what they did] and that contributed/helped with [outcome]"
Take it a step further by asking participants: "What are the different Hero awards we want to present today, and who would you like to present it to?"
Make time for participants to share their stories.
Finally, have an impromptu and informal award ceremony! Consider using some symbolic objects to present if you can.
Thank you to all of the Scout Leaders, educators and dedicated volunteers who contribute to peace education. Your work is vital to achieve a better world for all.
To continue educating young people about peace, dialogue & more, access many more resources and activity ideas from WOSM, our partners and Member Organizations:
Scouting in Humanitarian Settings Action Kit (WOSM)
Dialogue for Peace - Facilitator's Handbook (WOSM & KAICIID)
Supporting Refugees and Displaced Children (The Scout Association & Save the Children)
Guide on Welcoming Refugees (Scouts et Guides de France)
Peace Education guide (Spanish Only) (Federación de Escultismo en España)
Scouts for SDGs Hub - See how Scouts are making a difference & submit your own story