World Scouting and UNHCR Announce New Global Partnership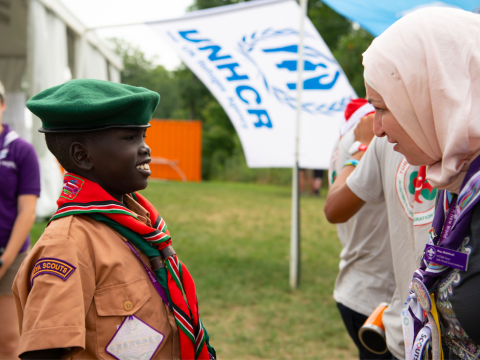 Kuala Lumpur, Malaysia - World Scouting and the UN High Commissioner for Refugees (UNHCR), have renewed their partnership, formalizing their collaboration on a global and local level. Secretary-General of the World Scout Movement, Ahmad Alhendawi and the UN High Commissioner for Refugees, Filippo Grandi virtually signed the Memorandum of Understanding (MoU) on 2 April 2020. 
As one of the world's largest educational youth movements of over 54 million members, the Scout Movement has been working in difficult circumstances to create a welcoming environment for people of all backgrounds, integrating marginalized and vulnerable communities, including refugees into its educational programmes and activities.
"World Scouting is proud to team up with UNHCR to provide more educational opportunities for young people in marginalised communities. We will expand our non-formal education programmes in humanitarian settings to contribute to the protection, inclusion and empowerment of refugees, internally displaced and stateless persons," said Alhendawi.
Establishing Scout groups in Kenya's Dadaab Refugee Camp, Malawi's Dzaleka Camp, Hatay Province in Southern Turkey and others, World Scouting continuously collaborates with UNHCR at national levels to render humanitarian assistance and offer young refugees the opportunity to participate in Scouting with a focus on peacebuilding and skills development.
In this partnership WOSM and UNHCR will collaborate in joint advocacy efforts aligned with their strategic priorities to strengthen the protection of the rights and dignity of refugees, internally displaced and stateless persons. This partnership demonstrates World Scouting and UNHCR'S commitment to accelerate the efforts to implement Agenda 2030 for Sustainable Development and for 'Leaving no one behind'.
UN High Commissioner, Filippo Grandi, commented, "The incredible thing about the Scout Movement is the sense of being a part of something bigger; the camaraderie of a global movement for good and the opportunities for real change that this provides. That sense of solidarity is as important today in battling the COVID-19 pandemic as it is in ensuring that those forced to flee their homes by war and conflict are not forgotten. In partnership, UNHCR and the Scouts can make a tangible difference to refugees' lives around the globe and send a message of solidarity that bolsters their resilience and hope. This is why the Scouts are an important partner for UNHCR and for the people we serve."
The signing of the MoU commenced digitally as part of World Scouting's online Jamboree, JOTI, launched to connect young people around the world during a period of social distancing due to the Covid-19 global pandemic. Welcoming refugees to the digital event, JOTI is engaging young people in global citizenship, mental health education and more on its online platform. 
The partnership with UNHCR will enable World Scouting to strengthen the preparedness and capacity of National Scout Organizations for humanitarian response.
World Scouting and UNHCR have a long history of collaboration since the signing of their first MoU at the 18th World Jamboree in the Netherlands in 1995. A number of National Scout Organizations and Scouts have also been participating in humanitarian action and have established Scout groups in refugee settlements across different regions.