Ukrainian Scouts provide food, shelter, support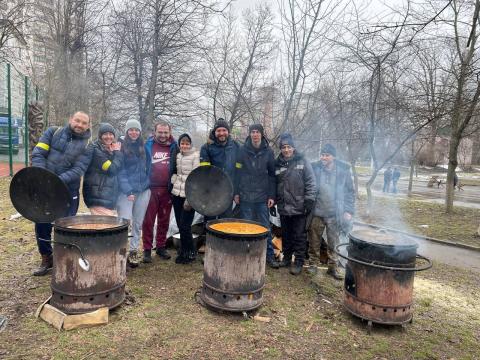 Since the beginning of the war, people in Ukraine are living in a state of fear and insecurity. With a deteriorating humanitarian crisis, volunteers from the National Organization of the Scouts of Ukraine (NOSU) are stepping up to help meet civilians' basic needs across the country, and beyond.
Sisters and longtime Scouts Yaroslava and Violetta Puhachova in Kyiv, are working closely with NOSU, community centres and the Red Cross. Assessing the fast-changing security situation, they explain:
"Moving in Kyiv is limited. It's not safe to be far from home, we have curfew and public transport doesn't work at full capacity. So we are doing what we can near home." 
Nika Gorovska, a current member of the World Scout Committee, shared:
"As a Ukrainian Scout I am proud of NOSU leadership. Seeing how they show courage in the face of adversity, how supportive and engaged they are, checking on everyone's wellbeing, sharing useful resources and answering messages, even though most of them have to hide in shelters several times a day and spend their nights underground. Seeing how local leaders and young people remain calm and level headed to help those in need. It is unbelievable."
Through regular online meetings and messages, NOSU volunteers have been coordinating closely with WOSM's regional offices in Eurasia and Europe, including National Scout Organizations in surrounding countries, to ensure aid is well-coordinated and meeting the most essential needs. This includes arranging for a warm welcome for refugees arriving in Poland, Latvia, Czechia, Romania and more.
Material support & volunteers
Scout centres in Kyiv and Odessa, among others, have been used when possible to purchase, collect and distribute essential items for the civilian population affected by the fighting, including medicines, food and water (through Red Cross) and shelter supplies like sleeping bags, blankets and mats.
Yaroslava's group, among others, donated their assets, like sleeping bags, directly to the nearest distribution centre. Her and her sister help keep the centre organised, including sorting, repacking and distributing donations.
Also in Kyiv, Scouts honed their outdoor skills by setting up a field kitchen to cook and provide meals for the community. 
Since a Scout is a friend to all, Yaroslava and Violetta are also concerned about abandoned animals. They support a campaign called "Don't Abandon" (Ukrainian: #непокидай) on social media, encouraging people to take their pets with them when evacuating. The sisters help re-home pets they find and donate cat food to a rescue group.
Support for children & Scouts
As Scouts, our first priority is always the safety and well-being of young people. With Scout Centres transformed into shelters, in some cases Scout volunteers are with Scouts and their families, helping keep children safe and entertained, sometimes amid explosions heard outside.
Amazingly, Scout Groups from NOSU have continued to have occasional online meetings to lift the spirits of young people and help them and their families through traumatic events. 
"Connections are crucial to provide support for everyone who needs it right now," says Yaroslava.
In February, adult leaders for Scouts in Vidrada conducted an online workshop with experts on self-care and well-being. Scouts of Odessa organised an online meeting to help entertain and soothe children with a special guest musician, Marat Mairovich. And Scouts of Dnipro entertained Scouts on Zoom with a quiz game on Scouting knowledge. 
On Instagram, that Scout Group wrote: "We truly thank the organisers, as well as all those present at the game for the positive emotions that we need so much now. We support each other! We believe in the best! Let's be prepared!"
In partnership with the Red Cross, NOSU intends to coordinate psychological support and activities for children and young people, including Scout volunteers.
Global support & fundraising
Over a quarter-million USD has been raised to support humanitarian relief efforts by NOSU and neighbouring Scout organizations. The crowdfunding effort, launched on 25 February, 2022 through the Scout Donation Platform, has benefitted from over 1,800 individual and group donations, including contributions from National Scout Organizations.
Volunteers with NOSU continuously express their gratitude for the donations and hundreds of messages of solidarity and peace filling their inboxes from Scouts around the globe. 
The global connection is stronger than words, Yaroslava says. "We regularly communicate with our Scouts and their parents. If they relocate, we help to connect them with Scout groups abroad." 
Scouts in bordering countries wait at entry points, coordinated with local partners to help new arrivals in any way they can. Beyond the tremendous response of Scouts in the region, you'll find stories of Scouts all over extending offers to help, including an American Scout who helped a Ukrainian Scout friend escape to Poland, the 1st Heathfield Scout Group in the UK offering free Scouting for refugees (from anywhere), and Kandersteg International Scout Centre reserving free accommodations for refugees.
Nika, who is also a Messengers of Peace Hero Awardee and Dialogue for Peace facilitator, says, "I am proud to see WOSM and Scouts everywhere promoting peace and dialogue, while condemning violence and injustice."
How to help
The best way to support the National Organization of Scouts of Ukraine (NOSU) is to make a monetary donation through WOSM.
Donations are used strictly for humanitarian relief purposes by NOSU and National Scout Organizations in neighbouring countries. WOSM remains in close contact with the leadership of NOSU who are keeping us informed about the evolving situation so that Scouts can coordinate an appropriate needs-based response for Ukrainians. 
Scouts and international organisations in the area remind people not to drive to Ukraine or nearby areas. If you are planning to send items, this should always be coordinated with local groups or organisations to you ensure they can store and distribute the goods. Learn more here on how to help (from anywhere) during a humanitarian crisis.
-----
Follow these official pages for regular updates about Scouts and their relief efforts:
World Scouting on Instagram, Twitter & Facebook (@worldscouting)
National Organization of Scouts of Ukraine (NOSU) on Instagram & Twitter (@ukrscout)
Scouts of Czechia on Twitter (@skaut)
Scouts of Poland on Twitter and Instagram (@zhp_pl)
Scouts of Romania on Instagram (@cercetasii_romaniei)