Scouts contribute to community safety during COVID-19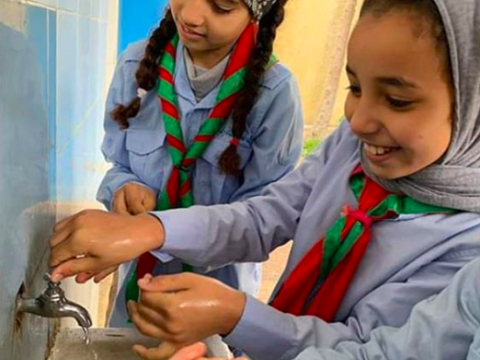 Over the past few weeks, inspiring young Scouts have once again demonstrated their unshakable Scouting values and commitment to serving their communities. Scouts in different parts of the world have taken the initiative and mobilized their groups in humanitarian efforts. 
From awareness raising on good hygiene practices to setting up hand-washing stations around cities, Scouts stepped forward to spread helpful information and lend a helping hand in their communities. 
At the early stages of the outbreak, Scouts in Singapore arranged a letter-writing campaign to health workers treating patients with COVID-19 in Singapore. Cards and online messages were sent by young people from over 14 countries giving their thanks and warm words of support to health workers in Singapore. 
Scouts in Lebanon and Portugal have produced a great informative awareness raising video, being shared on social media to remind people of best practices to prevent catching and spreading the disease. Further on social media, many Scout groups around the world, like Scouts of Romania, have produced their own version of the viral hand-washing dance. 
In fact, Scouts' efforts extended beyond awareness raising. Scouts in Haiti have set up hand-washing stations in their city and were teaching people how to properly and effectively wash their hands. Scout groups in other countries like Indonesia and the United States have also taken actions to help prevent further transmissions. 
These community efforts are part of the fundamental values that Scouting is built on.  It is part of the activities that Scouts around the world are engaged in each day. 
The safety of young people and adult volunteers comes first while carrying out activities. Scouts are continuing to play an active role in supporting their communities while taking necessary measures to ensure their personal safety and the safety of others.