Six tips to stay safe from harm online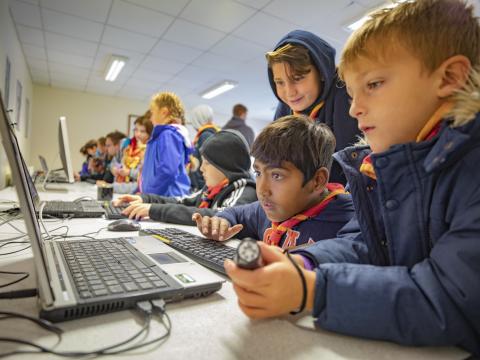 Besides being a great source for funny cat videos, the Internet has the power to bring people closer together. For Scouts, we know it can be a great source for tools and information to make the world a better place. 
The Internet can also be a source of serious issues, like cyberbullying, harassment, identity theft and abuse. This can happen when chatting and posting on social media, gaming platforms and even Scouting channels at JOTA-JOTI.
Online behaviour that is unacceptable includes: stealing private information, sending, posting or sharing false content about someone else, continuing to contact someone who asked not to be contacted, sending inappropriate remarks or photos to a young person or asking them to do so, and sending threats or hate speech. 
We want Scouts like you to feel safe online so that you can continue to use the Internet to create a better world. Make sure you are always prepared by reading these tips to stay safe online:
Golden Rules of Internet Safety: 
1. Be kind 
Treat others with kindness, the way you would want to be treated. Respect differences in feelings and opinions. If you witness bullying online, you should let a trusted adult know.
2. Be mindful about what you share 
Don't share your - or anyone else's - personal information online. This includes addresses, phone numbers, passwords and pictures you wouldn't want the public to see. Before sharing anything about another person, ask them if they are ok with it. Check your sources and make sure any news or facts you share are true.
3. Don't meet in-person with people you meet online 
People you've only met online are still strangers - even if you've been talking for a long time. Sometimes, a person might lie about who they are, which can be dangerous. Check with your parents or carers for permission to meet someone you've met online, and only meet them with them present.
4. Keep your personal information private
Check the "Privacy Settings" on your social media channels and make them private so that your personal information is only shared with those you choose to have as friends. Even then, never post personal information on the Internet.
5. Report harmful posts
Here's a way you can help make the Internet a safer place for everyone! If a post online makes you feel uncomfortable, take the responsibility to click "Report". This includes posts that are inappropriate or harmful to yourself or others. 
6.  Tell a trusted adult
If you receive messages or see posts that make you feel uncomfortable or unsafe, tell a trusted adult, like a family member or Scout leader, about the message you received or the post you saw. 
By learning and taking action, you're helping to keep Scouts - and everyone - Safe From Harm on the Internet.