Young people worldwide connect over the Internet and airwaves for JOTA-JOTI event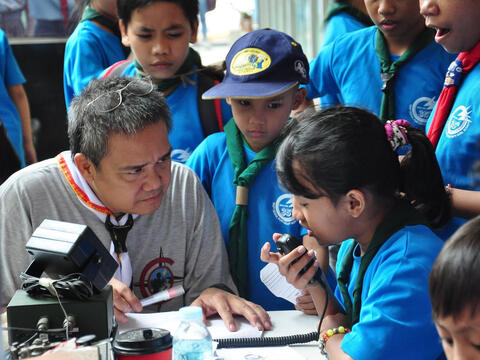 Young people from around the world will begin tuning in online and over the airwaves today for the start of Scouting's largest digital event, JOTA-JOTI (Jamboree-on-the-Air and Jamboree-on-the-Internet). Taking place from 15-17 October, JOTA-JOTI offers millions of young people a space to connect and participate virtually for a weekend of educational workshops, online conversations, live shows, international campfires, fun challenges, and amateur radio activities. 
JOTA-JOTI has been involving young people every year since 1958 inspiring friendship, learning and fun. The theme of this year's JOTA-JOTI is Scouts for SDGs, encouraging young people to be active in contributing towards achieving the Sustainable Development Goals (SDGs). The programme will engage millions of youth participants in learning about global citizenship and sustainability while developing the life and leadership skills to create positive change in local communities around the globe. 
The event is supported by hundreds of volunteers and staff working across time zones and Scouting Regions to prepare and deliver a memorable experience for everyone involved. Young people can join individually or with their Scout groups from anywhere in the world with over 200 activities to choose from during the three-day event. Participants will be able to access the dynamic programme and personalise their agendas through JOTA-JOTI's online platform.
JOTA-JOTI 2021 is being supported in partnership and with generous contributions from Alwaleed Philanthropies, and will feature the involvement of international organisations and partners such as FAO, Captain Planet Foundation, Earthshot Prize, and the Foundation for Environmental Education who will contribute their expertise during a number of workshops. Special guests including HRH The Crown Prince Guillaume of Luxembourg and Chief Ambassador of World Scouting Bear Grylls will also share inspiring messages during the event's live show. 
 
JOTA-JOTI 2021 introduces new engaging features
Several new features and educational activities have been integrated into this year's JOTA-JOTI programme, including a unique partnership with SAP and the Gems Modern Academy to host a coding workshop for young people during the Expo 2020 Dubai. Hundreds of Scouts in the United Arab Emirates will take part in the coding workshop to learn the basics of computer programming and apply those skills to design one of icons of the 17 Sustainable Development Goals. The coding workshop will also be offered virtually as part of the JOTA-JOTI programme to enable more young people around the world to learn about technology, innovation and 21st century skills.
What makes JOTA-JOTI unique is that Scouts are able to build new friendships with other Scouts from around the world. Through ScoutLink and a new partnership with RocketChat, an open source communications platform, young people can join meaningful conversations in moderated chat rooms around topics such as climate action, gender equality, mental health, peace-building and more. Scouts can also to tune official World Scouting radio stations for JOTA-JOTI that will be broadcasting live and non-stop from the Malaysia and Luxembourg, enabling young people to learn about the use of amateur radios and contact each other from around the globe. 
Over the weekend, JOTA-JOTI Live Shows will be streamed on World Scouting's social media channels every day at 12:00 GMT to offer more opportunities for young people and volunteers to connect, engage and be part of the fun. The live shows are hosted by Scout emcees from Bangladesh, Mexico and the Philippines who will share the daily highlights from the event, showcase Youth Got Talent performances, and enable Scouts to call into the shows and be featured on air.
This year JOTA-JOTI will welcome female students from Saudi Arabia who will be participating in the event for the first time. In close partnership with Alwaleed Philanthropies, female students from Princess Noura University have been integrated into Scouting this year as volunteers and Scout Leaders as part of a larger effort to mainstream volunteerism across the Kingdom. The group of students will participate in JOTA-JOTI activities over the weekend and will be interviewed during the JOTA-JOTI Live Show.
To ensure everyone has a safe and inclusive JOTA-JOTI experience both online and in-person, participants have been provided with safety guidelines, and are encouraged to take the Be Safe online e-learning course before the event.