Bear Grylls signs on as Chief Ambassador of World Scouting until 2022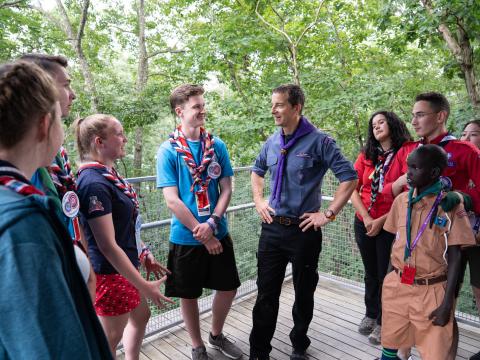 Two years after joining the World Organization of the Scout Movement as the organisation's first-ever global ambassador, Bear Grylls is honoured to renew his appointment for a further two years, until 2022. 
During his time as Chief Ambassador of World Scouting, Bear has been instrumental in raising awareness of Scouting as the world's leading educational youth movement and inspiring more young people and volunteers to get involved in Scouting in their communities. 
As a well-known global adventurer, Bear has been a role model for Scouts around the world for many years and has inspired millions to get involved in outdoor educational activities. Bear also serves as the Chief Scout for The Scout Association in the United Kingdom.
"It is truly such a privilege to be renewing my role as Chief Ambassador of World Scouting and do my part in promoting the amazing work Scouts do across the globe as a true force for good. This past year with the global pandemic has really highlighted the importance of Scouting values, whether it be community spirit, being kind to your neighbour or learning new skills and adapting to change. Thank you for your faith in all we can do together," said Bear Grylls.
As one of his first engagements with World Scouting, Bear headed to the United Nations headquarters to launch Scouts for SDGs, a global youth mobilisation for sustainable development through which young people have contributed 2 billion hours of community service and over 16 million local actions towards the Sustainable Development Goals.
In 2019, Bear inspired 50,000 Scouts while delivering a talk on the main stage of the 24th World Scout Jamboree, and more recently in April 2020 he joined millions of Scouts in solidarity for a special edition of the Jamboree on the Internet designed to engage young people in fun, educational activities while at home during the COVID-19 pandemic. 
The Chief Ambassador has also participated in key online campaigns for World Environment Day, International Volunteers Day and other events calling on Scouts to be leaders for environmental action and recognising the incredible contribution of the more than 5 million volunteers who are at the heart of the Scout movement. 
"My role with the Scouts has shown me first-hand the power of volunteering and how it impacts society for the better. The Scouts and Scout leaders across the globe are shining examples of the good that comes from giving up a little bit of time each week to help and inspire others."
The renewed two-year appointment will see Bear continue to be active in supporting and shining a spotlight on World Scouting's initiatives, campaigns and events, while engaging millions of young people and adults to grow the Scout movement and highlight the stories and impact of Scouting worldwide.