Africa Scout Foundation Launches New Website on Africa Youth Day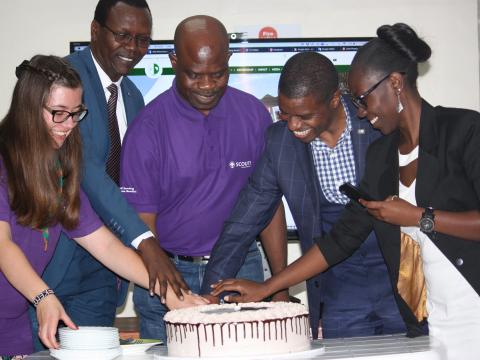 Nairobi – Kenya: For the first time in 23 years the Africa Scout Foundation has launched its own website. Previously hosted on the scout.org/africascoutfoundation, news, stories, projects and other information about the foundation will from 1st November 2018 will be accessible at africascoutfoundation.org. General correspondences with foundation will henceforth be managed through info@africascoutfoundation.org. Other general enquiries about Scouting in Africa will continue to addressed to africa@scout.org.
The new website which was unveiled at an event held at the World Scout Bureau Africa Support Centre in Nairobi is part of the efforts to enhance visibility and promotion of the Foundation to drive growth of its financial base. Through it, we hope that many more people will be are to better understand the role of the foundation and support its cause of ensuring a future for Scouting in Africa.
The significance of the launch was raised as it coincided with the commemoration of the Africa Youth Day, marked on 1st November every year - where there were calls to invest in Africa's youth. We invite you to visit the website and learn more about how you can support the development of young people in Africa, through Scouting. The website was developed with support from Legibra Solutions - a kenyan creative studio.
The foundation also welcomed and recognized the following new members and contributors:
Individual Members:
John Neysmith from Canada (Contributor in the Diamond Category)
Ray Charles Musau from Kenya (new member in the Platinum Category)
Mark Arnoud Alexander Knippenberg (Upgraded to Silver Category)
Moses Ochieng Danda (new member in the Bronze Category)
Nelson Ochieng Opany (new member in the Bronze Category)
Junior Members:
Blanche Marie Monjuvent (new member in the Bronze Category)
Powell Chris Opany Ochieng (new member in the Bronze Category)
Adriel Griffin Ooro Ochieng (new member in the Bronze Category)
In the spirit of continuous improvement, we welcome feedback on our new website to enable us best meet the needs of our stakeholders. A lot more work will continue to further enhance functionalities of the website and improve on content.
Enjoy the website and happy Africa Youth Day!
About the Africa Scout Foundation
The mission of the Africa Scout Foundation is to promote the growth of Scouting and support more young people in Africa to gain knowledge, develop skills and attitudes through quality educational programmes towards creating a better world by continuous accumulation of capital fund. These funds are raised through donations, grants, membership contributions and other legal methods of fundraising. The Foundation also seeks noncapital donations to support specific Scouting projects. This is with a vision of "ensuring a future for Scouting in Africa." Find out more at africascoutfoundation.org
For media enquiries, please contact:
Nelson Opany, Manager, Communications & Partnerships, World Scout Bureau Africa Support Centre, Nairobi – Kenya, Tel: +254 20 245 09 85, Email: nopany@scout.org, Skype ID: nelson.opany
Communique - ASF Website Launch FR.pdf