CSPSA meet to shape the future of South Pacific NSOs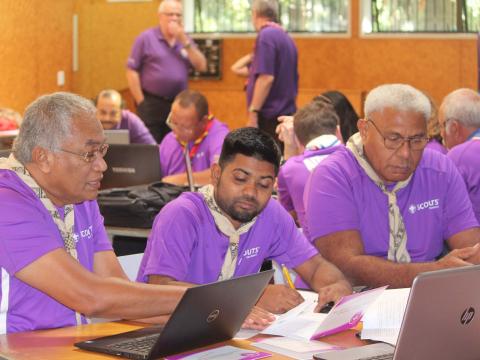 AUCKLAND, New Zealand – The Council of South Pacific Scout Associations (CSPSA) met during its CSPSA Forum held at Motu Moana Activity Centre in Auckland, New Zealand on March 9-11.
A total of 23 key leaders from different National Scout Organizations in the South Pacific gathered during its biennial forum to discuss key issues that directly affect Scouting in the area and to promote mutual understanding and co-operation. It was participated by leaders from Fiji, Papua New Guinea, Cook Islands, Solomon Islands, Tonga and New Caledonia. Representatives from other NSOs including French Polynesia, France, United Kingdom, Australia and New Zealand also participated during the forum and attended the capacity building workshop that followed.
The Council of South Pacific Scout Associations is a sub-regional alliance of NSOs in the South Pacific which was founded for purposes of engaging mutual co-operation, coordinating support from external organizations and partners, including the establishment of contact and support the association and WOSM. The CSPSA is a 12-member alliance composed of Fiji, Kiribati, Papua New Guinea, Polynesia, Samoa, Solomon Islands, Tuvalu, Tong, Vanuatu, New Caledonia, Cook Islands and Nauru. The association is also supported by Scouts Australia and Scouting New Zealand.
During the gathering, John Naisau (Fiji Scouts Association) was elected chairman, Noelline Parker (Polynesia) as vice chairman and Noel Pinda (The Scout Association of Papua New Guinea) as secretary for CY 2018-2020.
The CSPSA has committed that the alliance will be well-represented during upcoming 26th Asia-Pacific Regional Scout Conference in Manila, Philippines on October 2018 where it is also expected to deliver a report and promote the alliance.
The next CSPSA Forum will be hosted by Fiji Scouts Association in 2020.
Communications and Partnership Department, WSB Asia-Pacific Support Centre
With reports from S. Prassanna Shrivastava and Christeen Lauron