Scouting and Guiding nominated for Nobel Peace Prize for global contribution towards peace and dialogue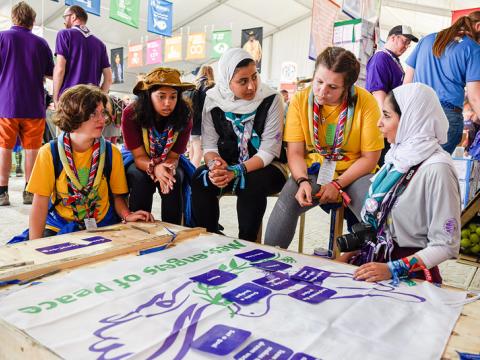 The World Organization of the Scout Movement (WOSM), together with the World Association of Girl Guides and Girl Scouts (WAGGGS), have been nominated for the 2021 Nobel Peace Prize, recognising the outstanding contributions of Scouting and Guiding that have empowered hundreds of millions of young people to create a lasting culture of peace in their communities for more than a century. 
The Nobel nomination was submitted by Norwegian Liberty Party MP, Solveig Schytz, former Chief Commissioner of The Guides and Scouts of Norway and a current volunteer for the Scout Movement. 
"The Scout Movement is all about giving young people the tools they need to solve the challenges of the future, while building strong civil society. This work is vital to world peace," said Mrs. Solveig Schytz in her nomination.

"At a time when our world is threatened by so many international challenges, be climate, wars or the pandemics, we need a counterweight to egoism and nationalism. We need to offer young people a chance to rally around a set of common values and the belief in service, not only to one's own community, but to international society."
Since its founding in 1907, the Scouting and Guiding Movements have centred around enabling young people with the leadership and life skills for them to promote peace and mutual understanding, and to be of service to their communities. Scouting helps to build a lasting culture of peace by incorporating the ideas of teamwork, unity, and intercultural understanding into its Youth Programme and activities. 
Over the past decade alone, World Scouting's flagship Messengers of Peace initiative has inspired Scouts around the world to take action in their communities by contributing to peace and sustainable development, contributing more than 16 million local projects and actions.
Scouting's national, regional and world events are organised around the pillars of cross-cultural collaboration and peace-building, including World Scout Jamborees and JOTA-JOTI (Jamboree on the Air - Jamboree on the Internet) that connect millions of young people to be active global citizens. By teaching young people about the values of respect and duty to others, Scouts are working to build a world that is more peaceful and inclusive for people of all ages.