Scout highlights Messengers of Peace work during Dalai Lama visit in India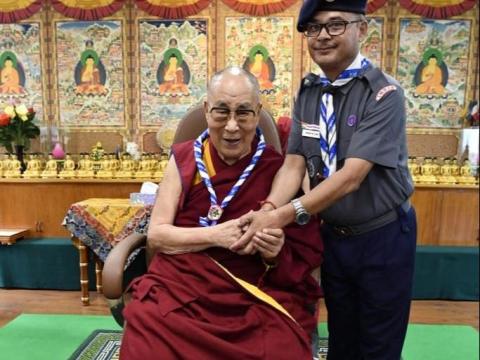 For Amar Chettri, a lifelong Scout and National Coordinator of the Bharat Scouts and Guides Messengers of Peace initiative, meeting His Holiness the 14th Dalai Lama and sharing the impacts of Scouting's peace-building efforts was a once-in-a-lifetime opportunity.  
The moment came to be alongside the National Rover Ranger Carnival which recently took place in Himachal Pradesh, Dharamshala, a state in the northern part of India where the Dalai Lama has lived since 1959. 
During the visit, on behalf of Scouting across India and worldwide, Amar presented the Dalai Lama with a blue Messengers of Peace scarf. This scarf is often symbolically bestowed to a Scout, volunteer, or professional Scout who has shown great commitment and outstanding service towards building peace - an honour befitting His Holiness who has been a champion and advocate for global peace, compassion, and dialogue throughout his extraordinary life. 
"It was an incredible moment to meet, greet, and seek blessings for Scouting from His Holiness," said Amar. "I gave a Scout salute to the Dalai Lama and he responded smilingly and said 'welcome Scout'. I introduced myself saying 'I am a Scout, Messenger of Peace' and would like to present you with this Messengers of Peace scarf."
The Dalai Lama accepted the offering with delight, and Amar talked about the contributions and actions of Scouts all over India, and in millions of communities worldwide, to create lasting peace and dialogue. The Dalai Lama listened intently and expressed his deep appreciation to Scouts for all that they do to make the world a better place.
A decade of community impact through Messengers of Peace
Over the past decade through the Messengers of Peace initiative, Scouts have delivered more than 16 million local projects and actions to promote peace - supporting communities impacted by natural disasters in Haiti, leading peace-building efforts in the Democratic Republic of the Congo, facilitating interfaith dialogues in Indonesia, standing up for gender equality in Saudi Arabia, and working to make refugees feel welcome in Turkey. 
The Messengers of Peace initiative has also supported capacity-strengthening efforts throughout Scouting's local, national and international levels, ensuring world-class support is available to over 10 million local Scout Leaders delivering the Scout programme. 
The visit with the Dalai Lama inspired the 350 Scouts who participated in the National Rover Ranger Carnival, and left Amar feeling both honoured and hopeful that young people can continue to undertake even more innovative actions to promote peace and sustainability for the future of our planet.
Did this story inspire you to take action and start contributing to world peace by becoming a Messenger of Peace? Read more about this educational initiative here or contact your local Messengers of Peace Coordinator to find out how you can leave a lasting mark through peace-building activities.