World Scout Bureau
The World Scout Bureau is the Secretariat of the World Organization of the Scout Movement (WOSM). It is directed by the Secretary General, who is the Chief Executive Officer of WOSM, and is appointed by the World Scout Committee to promote and safeguard the interests of the Scout Movement.
Copyright
World Scout Bureau - Enrique Leon
What does the Bureau do?
The World Scout Bureau promotes the unity of the Movement by supporting the organisation of Scout events. It also builds partnerships with other international organizations to advance WOSM's mission to be the world's leading educational youth movement.
The Bureau supports the functions of the World Scout Conference and World Scout Committee. Together with volunteer teams, it delivers on the operational plans related to the Strategy for Scouting. The Bureau also supports National Scout Organizations through WOSM Services and other means to develop Scouting and expand in countries and communities where Scouting does not currently exist.
Copyright
World Scout Bureau - Enrique Leon
Working for the World Scout Bureau
With over 120 employees from more than 40 countries, working for WOSM means joining a global workforce of professional, talented, and committed individuals who are passionate about youth development and education.
Work for WOSM and join a Movement that empowers young people globally.
Explore our careers page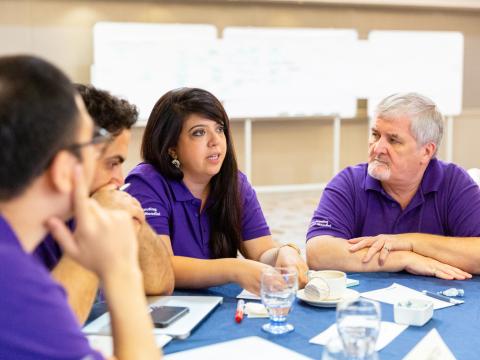 The Senior Management Team brings together the Bureau's strategic leadership across all teams and functions. Led by the Secretary General, it approves policy, plans, and projects that are delivered organization-wide and ensures the staff teams stay aligned and connected with each other.
Meet the team!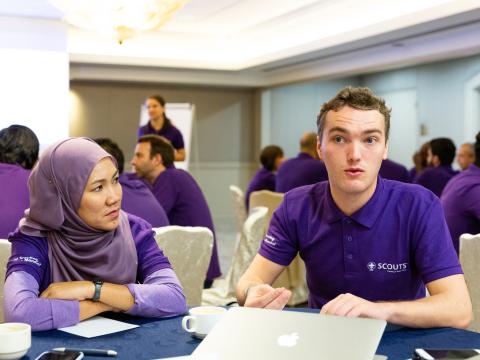 We are a diverse and passionate group of over 120 staff working on some of the world's most rewarding youth projects. Each team member brings their own unique talents to our Global and Regional Support Centres.
Meet the team!
World Scout Bureau Support Centres
The World Scout Bureau operates a Global Support Centre and Regional Support Centres in six Scout Regions around the world. Contact your nearest Support Centre to learn more about Scouting in your area.
Locations
Global Support Centre
Suite 3, Level 17, Menara Sentral Vista, 150 Jalan Sultan Abdul Samad, Brickfields, 50470 Kuala Lumpur, Malaysia
Africa Support Centre
Rowallan National Scouts Camp Kibera Drive, Opposite ASK Jamhuri Park Gate "E" Nairobi Kenya
Learn more
Arab Support Centre
2 Youssef Abbas Street Nasr City - Cairo Cairo Egypt
Learn more
Asia-Pacific Support Centre
4/5 ODC International Plaza, 219 Salcedo Street, Legaspi Village, 1229 Makati, Makati 1229 Philippines
Learn more
Eurasia Support Centre
Sitchovyh Striltsiv str.77, of.709 Kyiv 04053 Ukraine
Learn more
European Support Centre
Foo Bar European Scout Region P.O.Box 327, Rue Henri-Christiné 5 Geneva 1211 Switzerland
Learn more
Interamerica Support Centre
Building 172 - City of Knowledge Panama Panama
Learn more
Global Support Centre
Suite 3, Level 17, Menara Sentral Vista, 150 Jalan Sultan Abdul Samad, Brickfields, 50470 Kuala Lumpur, Malaysia
Africa Support Centre
Rowallan National Scouts Camp Kibera Drive, Opposite ASK Jamhuri Park Gate "E" Nairobi Kenya
Learn more
Arab Support Centre
2 Youssef Abbas Street Nasr City - Cairo Cairo Egypt
Learn more
Asia-Pacific Support Centre
4/5 ODC International Plaza, 219 Salcedo Street, Legaspi Village, 1229 Makati, Makati 1229 Philippines
Learn more
Eurasia Support Centre
Sitchovyh Striltsiv str.77, of.709 Kyiv 04053 Ukraine
Learn more
European Support Centre
Foo Bar European Scout Region P.O.Box 327, Rue Henri-Christiné 5 Geneva 1211 Switzerland
Learn more
Interamerica Support Centre
Building 172 - City of Knowledge Panama Panama
Learn more