World Organization of the Scout Movement
Mission & Vision
A Global Educational Youth Movement
Scouting's mission is to contribute to the education of young people through a value system based on the Scout Promise and Law. Through Scouting, we are building a better world where people are self-fulfilled as individuals and play a constructive role in society.
By 2023, Scouting's vision is to be the world's leading educational youth Movement, enabling 100 million young people to be active citizens who create positive change in their communities and around the world based on shared values.
Make a positive change in your community!
Join Scouting
Scouting's Strategic Priorities
Scouting gives young people the opportunity to develop skills and knowledge, empowering them to take an active part in the Movement and in their communities. Involvement, recognition, and intergenerational exchange are key to providing a framework for our youth members.
The Youth Programme provides a non-formal learning environment that strengthens the capacity of young people so that they can face the challenges of tomorrow. Scouting attracts, trains, and retains quality adult volunteers to deliver the Youth Programme.
Scouting reflects the societies in which it exists and actively works to welcome all individuals without distinction of any kind. This diversity should not only be reflected in the membership, but also in the methods and programmes used within the Movement.
Every Scout are involved in community service and share their experiences to inspire others. Through activities and projects, Scouts contribute to their communities and become leaders of positive change.
Scouting's profile accurately portrays what we do and why we do it, reflecting our shared values. By using the most impactful methods of communication, and engaging in strategically relevant partnerships, Scouting is recognised as the world's leading youth movement.
The governance of the World Organization of the Scout Movement (WOSM) is transparent, accountable, efficient, clearly linked to its overall strategy, and focused on achieving the mission and vision of the Movement. The roles and responsibilities of the different levels in the organisation are clearly defined and understood, ensuring a customer-focused approach. In doing so, we ensure high synergy across all levels of WOSM with a high "return on investment".
Copyright
World Scout Bureau - Enrique Leon
Vision 2023
World Triennial Plan 2021-2024
The Strategy for Scouting is made a reality through world, regional, and national strategic plans. By outlining Scouting's priorities over a three-year period, the World Triennial Plan 2021-2024 aims to unite the Scout Movement as we respond to the impacts of the COVID-19 pandemic and look to the future to offer relevant educational opportunities for young people. 
World Triennial Plan
Copyright
World Scout Bureau
WOSM Annual Report 2021-2022
Our Annual Report highlights incredible stories and achievements from across the Scout Movement. Read the full report to learn how WOSM is creating a lasting global impact in communities around the world.
WOSM Annual Report 2021-2022
"Now more than ever, we need young people to stand up and take action around the challenges facing our communities and our planet. To promote human rights and act against injustice, to tackle climate change and promote gender equality, and to achieve the Sustainable Development Goals."

Ahmad Alhendawi
Secretary General, World Organization of the Scout Movement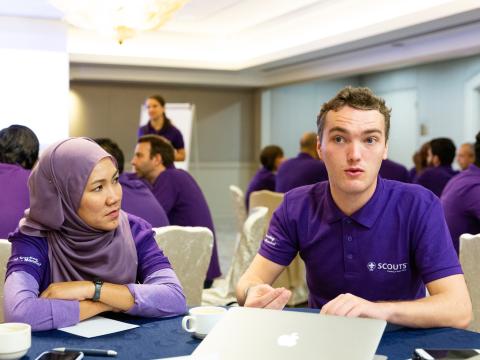 Copyright
World Scout Bureau - Enrique Leon
Learn about WOSM's six regions and its global membership network of 172 National Scout Organizations.
Discover where we work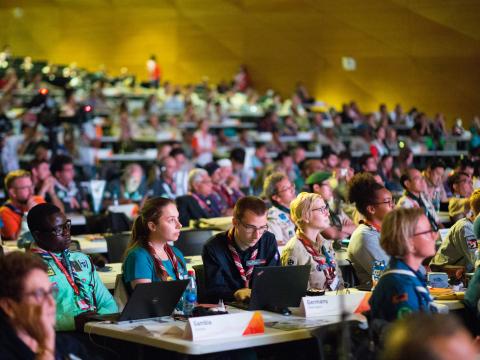 Copyright
© World Scout Bureau Inc. / Enrique Leon
Discover the World Scout Conference, which takes place every three years and is the governing body of WOSM.
Read about the Conference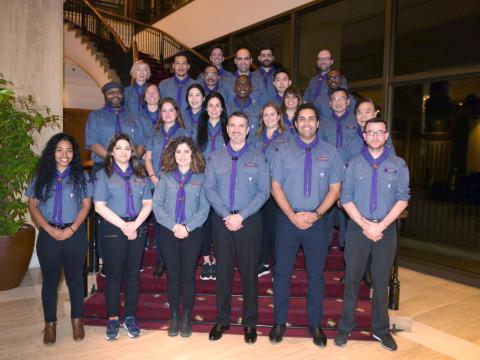 Copyright
World Scout Bureau
Learn more about the World Scout Committee and its role as the executive body of WOSM.
Explore the Committee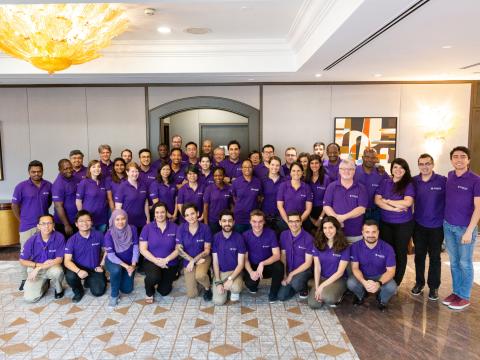 Copyright
© World Scout Bureau Inc. / Enrique Leon
Find out more about the World Scout Bureau, which acts as the Secretariat of WOSM and is headed by the Secretary General.
Learn about the Bureau
Resources
World Triennial Plan 2021-2024

File download

Annual Report 2019-20

File download

Consolidated financial statement 2019-2020

File download