How to help during a humanitarian crisis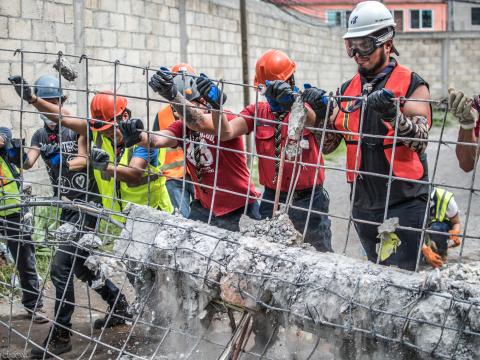 When a humanitarian crisis occurs, such as a natural disaster or armed conflict, we can count on Scouts to help respond with acts of service, donations, compassion and solidarity.
As Scouts, we often want to make ourselves useful and help others, while staying safe and caring for our well-being. Humanitarian crises can be distressing for young people who hear about, witness or experience them, so let's learn together how we can safely help during a humanitarian crisis, whether it's happening near or far.
How to help if the humanitarian crisis is near you:
If the event happens near you, it's likely that your passion for helping others will make you want to act quickly. Before you start, here are a couple of things to consider:
Is it safe to intervene? The health and safety of Scouts must always be a priority. Never go to a conflict or disaster area on your own. Always coordinate with local authorities and assess the risks first.
 
Have you asked what is needed? Check to see what your National Scout Organization (NSO) is doing. Even the most well-intended help can cause or aggravate stressful situations in a crisis, if not well coordinated. Your NSO will know what you can do to support, what supplies are needed, what they can store and distribute, and what is culturally appropriate.
If it's safe and you've identified the needs you can help with, then it's time to make a plan for how to get involved with your Scouts, such as running a fundraiser or providing requested aid (ex. clean-up after a hurricane, collecting warm clothes for refugees, translating resources, sorting and packing supplies for a partner organisation, etc.).
How to help during a humanitarian crisis, from anywhere:
Learn the Basics: Understanding basic standards for humanitarian action and how they align with Scouting's values will help you ensure your contributions are ethical, fair, and helpful. Get started by taking a look at this simple infographic. 
 
Be Prepared: It's our motto for good reason! Be prepared to respond and help if a disaster occurs near you. This quick reference guide provides some tips on what you can do as an individual, Scout Unit and NSO to be prepared for a crisis. Preparedness at all levels helps save lives, minimise damage and enhance disaster response operations. 
 
Continue your Scouting activities: If it's safe to do so, keep having meetings in-person or online. Scouting provides a safe space for young people to build friendships, learn skills and work together to create a better world.
 
Continue Skill-building: Outdoor skills learned in Scouting, like making shelters, cooking outdoors, and setting up amateur radio stations, paired with soft skills like teamwork and leadership, are very practical for helping in emergency situations, such as a natural disaster.
 
Practice Peace-building: If you want to help Scouts practice peace-building, check out these 10 peace education activity ideas we put together.
 
Provide Emotional Support: Scouts may need someone to talk to if they are feeling stressed about events they experience or hear about. Watch the Emotional Support of Youth webinar, led by mental health experts, for insight and practical tips to help you support others in overcoming emotional challenges.
 
Talk to Children: If the crisis is due to an armed conflict, adults can find tips in the guide "How to talk with children about war" in multiple languages and/or consult these tips from UNICEF.
 
Become a Dialogue for Peace Facilitator: Dialogue is a tool that can help us create safe spaces, develop active listening, have difficult conversations productively, and promote more peace and understanding in all areas of life. Download the Dialogue for Peace facilitator's toolkit to learn how you can facilitate dialogue.
 
Raise or Donate Money: In most cases, the best way to help with emergency humanitarian relief is through financial contributions to support organizations, like Scouts, who are directly providing aid on the ground. This allows them to purchase the most needed supplies in a way they can best manage, store and distribute.
 
Utilise the Scout Donation Platform: This is a fee-free crowdfunding platform for Scouts' community service projects. It gives Scouts an opportunity to transform their ideas into reality, funding their projects and helping further Scouting's vision of creating a better world for everyone. Scouts can submit a project for consideration on the platform at any time, and anyone can make a donation of any amount.
Introduce Scouting: If you're in a humanitarian setting where there is no active Scout Group, consider introducing Scouting to help young people cope, have fun and build skills for life. Reach out to your NSO for support and check out our simple Action Kit to get started, and the Humanitarian Action Manual to support you in adapting your Youth Programme for a humanitarian setting.
 
Practice Self-Care: Take breaks and seek support when you need it. We love the enthusiasm of Scouts of all ages to volunteer when they identify a need. Helping others should feel good and not come at the expense of your own health, safety, or well-being. Speak with a Scout Leader, friend, or qualified professional if you need extra support.
One way you can help build greater resilience right now is to share this article with a Scout Leader or educator! The more we know before and during a humanitarian crisis, the more empowered we are to help. Stay safe and be prepared.