Scouts learn sign language to make group more inclusive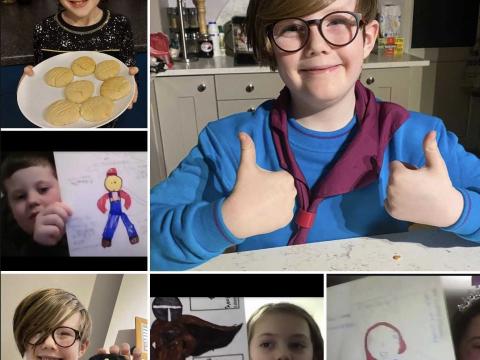 Accessibility and inclusion matter to Scouts because they're integral to creating a better world! The 4th Crosby Beaver Scouts in the United Kingdom are committed to making their group and community more accessible to people of various needs.
Earlier this year, during a term themed "Super Heroes – not everyone wears a cape," they dedicated meetings to learning about different disabilities and ways to help people.
 
One member in particular, 7-year-old Megan, was keen to learn and help make Scouting more inclusive. During an online camp in 2020, she learned to sign the Beaver promise. She practiced it and made a video to teach her fellow Beavers. They all learnt how to sign the promise ahead of the investiture of a member, George. 
"I wanted to help people with hearing difficulties to be able to join in at Beavers," said Megan, who first learned how to sign in school.
 
Her dedication to accessibility doesn't end at signing. Megan also designed a cane to help those with poor vision. Her creation is currently being considered by the Royal National Institute of Blind People in the UK.
It's no surprise that Megan has earned her Bronze Award, the highest award in the Beaver Scout section in the United Kingdom! She was inspired by Scouting, and in turn, inspires her Scout Group in many ways.
 
According to Group Scout Leader Catherine Ashcroft, the Beavers have many great ideas for how to improve their meeting place to make it easier for people living with disabilities to access. They intend to meet with the center manager to make more changes.
 
The group is also looking forward to working with St Vincent's School in Liverpool, a specialist school for sensory impairment and other needs, to bring communities together after the isolation brought on by the pandemic.
 
Catherine explains: "We promote inclusion throughout the group and do our best to learn about everyone's individual needs so that everyone can be part of everything we do. One of our Scout Patrol Leaders who helps with Beavers has a hearing impairment, so the Beavers have some understanding of why we need to make adaptations to include everyone. Disability should not be a barrier to Scouting, but more of an opportunity to understand others and accept everyone's needs."
 
World Scouting supports the initiatives and efforts of Scouts worldwide to create safe and inclusive spaces for people of all abilities. We hope this inspires you to consider how you can help make your Scout group or Centre more accessible to people of different needs and abilities.
 
These efforts contribute to Sustainable Development Goal (SDG) 4 for Quality Education, helping ensure inclusive and equitable quality education and promote lifelong learning opportunities for all, as well as SDG 10 for Reduced Inequalities.
 
Are you doing something to help achieve a more accessible & inclusive world? We want to hear about it! Submit your project at sdgs.scout.org. 
Special thanks to Catherine Ashcroft, Group Scout Leader of the 4th Crosby Beavers in the UK for contributing this story and video!