World Scouting Welcomes UN Report "Our Common Agenda"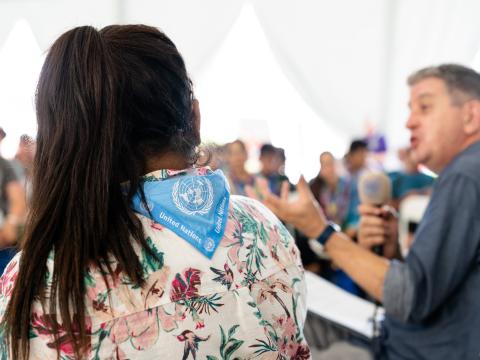 The World Organization of the Scout Movement (WOSM) welcomes Our Common Agenda, a report of the United Nations Secretary General released today with timely recommendations to respond to current and future challenges.
As the report states clearly, we are at an inflection point in history. With the climate crisis looming, the societal consequences of the COVID-19 pandemic to impact generations to come, and the urgency for a repaired multilateral system, World Scouting strongly supports Our Common Agenda's call for a breakthrough to a better, more sustainable, and peaceful future for our people and planet.
To tackle these challenges head-on, World Scouting firmly believes the international community must recognise the rights of future generations and engage young people at every step of decision making processes to ensure decisions taken today are the right ones for generations of tomorrow.
We welcome recommendations for an upgraded UN Youth Office, recogising the important work achieved by the Office of the SG's Envoy on Youth, as well as for the appointment of a Special Envoy for Future Generations, a Futures Lab, and the Transforming Education Summit, among others.
As the world's leading educational youth movement, the Scout Movement has been empowering young people through non-formal education to lead positive change in their communities for over a century. Collectively, Scouts have contributed nearly 2.5 billion hours of community service towards the SDGs and are active citizens in shaping the future of their communities. The Scout Movement has decades of experience in acting with and for future generations, and we stand ready to support the implementation of Our Common Agenda, particularly as it relates to youth engagement and representation, and in voicing the outcomes of the World Non-Formal Education Forum as part of the upcoming Transforming Education Summit. 
While the Secretary General's recommendations, particularly as they relate to youth and future generations, represent a remarkable step forward in setting progressive and inclusive measures and structures, it remains at the behest of UN Member States to implement them and provide them the proper mandates through the UN General Assembly and relevant structures.
We call on UN Member States to act on the Secretary General's recommendations with urgency, and reaffirms its commitment to being a reliable partner to the UN and other stakeholders in creating a better world together.