HRH Prince Philip, lifelong champion of young people around the world, passes at age 99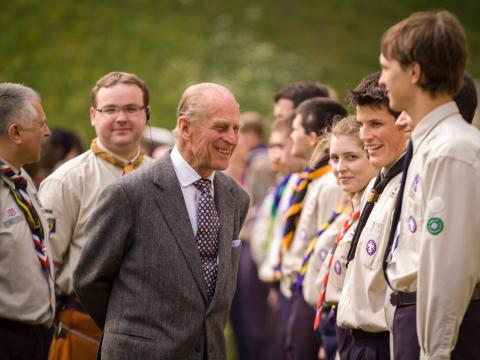 The World Organization of the Scout Movement is deeply saddened and shares its condolences at the passing of His Royal Highness, Prince Philip, Duke of Edinburgh, who died peacefully today at Windsor Castle at the age of 99. 
His Royal Highness was a lifelong champion of youth development and non-formal education through his role as founder of The Duke of Edinburgh's International Award, one of the world's largest youth organisations. He was married to Her Majesty Queen Elizabeth II who has served as Patron to The Scout Association since 1952.
Started in the United Kingdom in 1956 by HRH Prince Philip, The Duke of Edinburgh's International Award is a global youth awards programme that has equipped and empowered millions of young people to build the skills, confidence and resilience to realise their full potential and serve their communities. Today the Award programme is delivered in more than 130 countries and territories around the world, and its training scheme has been adopted by many of the 171 National Scout Organizations around the globe. 
"Through the personal leadership and involvement of HRH Prince Philip, the Award that bears his name has transformed the lives of millions of young people since it started in 1956 and has impacted countless more in local communities," said John May, Secretary General of The Duke of Edinburgh's International Award Foundation.
Over the decades, HRH Prince Philip has been an avid supporter of Scouting in the United Kingdom, across The Commonwealth and around the world. The Duke always attended the Parade of Queen's Scouts at Windsor Castle whenever Her Majesty The Queen attended the event, including during Scouting's centenary celebrations in 2007 when Queen's Scouts from across the Commonwealth were honored together.
 
HRH Prince Philip visiting the World Scout Bureau and being received by former Secretary Generals Jacques Moreillon and Luc Panissod at WOSM's office in Geneva, Switzerland.