"Why hire someone who has been a Scout" Forbes Web. 09 Sept. 2016. (Translated from Spanish)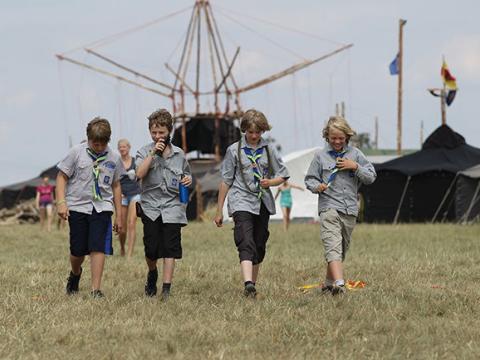 The same as "proficiency" validates a high level of English language knowledge, to find that a person has been a Scout in a personal CV guarantees that the person has essential skills to deal with the current job market. These are the ten strengths you will find when you hire someone who has been a Scout. And it doesn't have to do with any commercial traits associated or with the very 'old fashioned' and wrongly stereotyped image of young kids selling cakes.
They know how to work in teams– They might have 15 years of experience of working in teams, always applying respect for others as a transversal value. Setting up a tent or organising a summer camp for 200 participants as a volunteer is part of their experience. The Scout way of learning is by nature cooperative and project based.
They are creative – They have spent many years finding innovative solutions in adverse situations. They have been asked to fix up roofs under unexpected heavy storms, come up with a 'Vikings' theme and a full programme to inspire 100 kids during 15 days; or to set up a fundraising campaign to cover the expenses of a refugee camp in Syria.
Will stand for his or her values and their word can be trusted – They are used to planning and carrying out activities using Scout values as the primary framework (something similar to the 'code of ethics' we refer to in the professional world). This fosters the need to believe in the aim of the projects they take part of, aligning these goals with his or her interest and passions. Truth, nobility, justice, solidarity and their word being trusted are non-negotiable values in their framework of action.
Know how to lead and how to be lead – They have been practising since the age of six how to take decisions and work on more than one project at a time. In some of the cases, they are the leaders, in others, others lead them. When leading, they practice consensus, trusting the team, putting themselves in other people's position and being consistent with their decisions. When led, they work with the team respectfully, promoting consensus and cohesion.
Has empathy for others – The same as an enterprise, there are all kinds of young people and adults in a Scout group. All of different ages, skills and interests. Empathy is a key factor to achieve coexistence and mutual support. A Scout has learnt that not everybody has to carry the same weight in their backpack, but it is better to distribute the weight based on each indivduals capacities. They are aware that the best excursion is not the one that brings them furthest, but the one where everybody in the team can reach the goal together.
Values effort – From very early stages in a Scout's life, activities are oriented for Scouts to be able to stand for themselves, to overcome their limitations even when all strength has gone. To smile when facing difficulties and to make all efforts to achieve what is set as a goal.
Knows how to set goals and how to evaluate them – Starting at six years of age, they practice how to set up personal and team goals, to monitor and assess them and to receive constructive feedback. Therefore, any Scout with manage smoothly when entering the labour force.
Is generous – To 'give' and to 'share' are some of the most often used verbs in the life of a Scout. The remaining water in the bottle doesn't belong to the owner but to the one who is more in need. A volunteer educator is willing to invest up to 1000 hours in a Scout, dedicated to educating them to become better individuals.
Advocates against injustice – With the motto "to leave this world a little better than you found it", Scouting's pedagogy is based on encouraging young people to be able to understand their potential and apply it to improve their environment. Being brave to solve and face the challenges without ignoring any injustice, always taking action to change it in a positive way.
Is a resourceful person – They have extensive experience of turning meetings into a more dynamic space, coming up with activities to solve conflicts, to speak in public or to find out the cheapest service to rent a van. They are adventurous and dynamic, used to addressing problems of various sizes and shapes.
Aren't these all the skills we are looking for in people to be incorporated in our work teams?
• If you have been a Scout and Scout educator, include it in your CV and talk about it during your job interview.
• If you are looking for talent, don't miss the competitive advantages of being a Scout.
• If you are a parent aiming to educate your children with essential life skills: encourage your kids to join Scouting, even if this results in early wake-up calls during weekends.
Original article published on Forbes.es: Por qué contratar a una persona que haya sido scout.
Author: Ana Sáenz de Miera, Director Spain and Portugal and Co-Director Ashoka Europe.