Largest specialized world forum on non-formal education kicks-off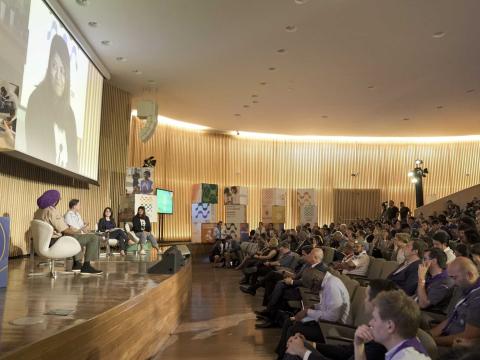 Rio de Janeiro, Brazil – More than 400 youth leaders, international youth serving and led organisations, UN agencies, academic experts and educational practitioners are now gathered for the World Non-Formal Education Forum to debate current and future trends on non-formal education. 
The World Non-Formal Education Forum, convened by the World Organization of the Scout Movement (WOSM), UNICEF, UNFPA and the Office of the UN Secretary General's Envoy on Youth, and with the participation of over 70 international organizations has begun in Rio de Janeiro, Brazil and will run until 11 December 2019.
The Forum is the first convening of its kind offering an international platform for ideas on non-formal education and aiming to explore how organisations can keep pace with the latest trends in non-formal education and contribute towards achieving the Sustainable Development Goals (SDGs). 
Contrary to the notion that education happens only through the formal educational curriculum, non-formal education is what happens in places such as youth organizations and clubs, and community groups where young people meet to undertake projects together, facilitate peer-to-peer learning, and engage in activities like camping, music and community service. Research highlights the increasing relevance of non-formal in building a wide-range of competencies that are necessary for a changing-world. 
"Non-formal education is a prerequisite for meaningful engagement in modern society. We are witnessing the largest generation of youth the world has ever seen, and it is our responsibility to ensure that every young person has access to opportunities that allow them to thrive in this rapidly changing society," said Ahmad Alhendawi, Secretary General of the Scout Movement.  
The three-day programme features a series of main panel discussions led by sector experts, stage talks, innovation labs and over 30 interactive sessions and side events. Among the key outcomes of the event will be a joint statement referred to as the Rio Declaration, presenting action items and commitments to advance the agenda and investment in non-formal education. 
"Non-formal education is a powerful force for empowering young people to become active citizens and create social impact towards sustainable development. The next three days will bring key actors on board to drive more recognition and investments in non-formal education and allow us the opportunity to collaborate internationally and form successful partnerships," said Pia Melin Mortensen, Member of the World Scout Committee and Chair of the World Non-Formal Education planning team.
 
The event is also providing a platform for alliances of youth orgnaisations to convene their annual side meetings including  the International Coordination Meeting of Youth Organisations (ICMYO) and the "Big 6" group of youth organisations which includes the World Association of Girl Guides and Girl Scouts, YMCA, YWCA, International Federation of the Red Cross and Red Crescent Societies, and The Duke of Edinburgh's International Award. 
The World Non-Formal Education Forum is taking place at the Museu Do Amanhã (Museum of Tomorrow) and Museu de Arte do Rio (Rio Art Museum) with support from the national host, União dos Escoteiros do Brasil, the Brazilian Member Organization of the World Organization of the Scout Movement. 
 
About World Organization of the Scout Movement (WOSM)
Scouting is the world's leading educational youth movement, engaging millions of young people to be active citizens and create positive change in their communities. The World Scout Movement is made up of more than 54 million Scouts connected together through a global membership of 170 National Scout Organizations. 
 
Media contact
For media inquiries, please contact: 
Farah Sayegh
Manager, Media and Content Development
World Organization of the Scout Movement
farah.sayegh@scout.org